Leeds United are to be without Dan James for the rest of the season as he picked up the side's second red card in as many games.
There are two games left for Leeds in their pursuit of survival, but Jesse Marsch has headaches to deal with beyond just the growing injury list.
After Luke Ayling's red card against Arsenal, Dan James was shown a straight red card by Anthony Taylor against Chelsea when his reckless challenge on Mateo Kovacic needed no VAR review.
It means he's now out for the rest of the season, as he sits out with a three-match ban.
Our LeedsAllOver writers Alfie (N12) and Kris (FA5) discuss whether he can have any complaints about the decision…

There can't be many complaints.
Watching from the Kop end, the minute you saw the angle that James had dived into the tackle at, you knew a red card was coming.
Yes, he won the ball first, but where the winger's foot planted on Kovacic's leg meant Anthony Taylor had no choice but to send him off.
The build-up to the tackle had seen Taylor's decisions fuel Leeds' frustration but James channelled that in the wrong way, becoming the second Leeds player to do something stupid within the space of two games.
Like Luke Ayling, it was a moment of madness and it's resulted in his season ending prematurely.
That leaves Leeds, who are already with their backs against the wall, in an even tougher position when it comes to rescuing themselves this season.
We didn't pull any punches when it came to Ayling, and we will do the same with James.
He let Jesse Marsch and his teammates down on the night, as well as the supporters, with a really poor challenge that deserved what it got.
You need to be more disciplined than ever in the position Leeds are in and Marsch's side are being everything but that right now.
With two games to go, will Leeds stay up?
Yes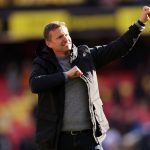 No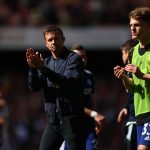 It was absolutely the correct decision for me.
At the time of seeing it from the South Stand, I thought it was a decision that could have warranted a red, but seeing it back multiple times only reaffirms my belief he had to walk for it.
He took the ball well but the follow-through is where he does the damage and you cannot defend him leaving his studs in Kovacic's ankle.
James has been asking for this for some time, with his yellow cards all coming from him running at full speed into challenges and clattering his opponent.
The ball was there to be won for James and making a strong challenge cleanly would have been huge for the momentum of the game, getting the crowd up and showing how this intense pressing system can get the side up.
As much as Marsch needs aggression from his players, there needs to be much more discipline, especially when we're looking to sit tight with a back five.
Red cards have killed us in both of these games and you've got no chance of picking up points when your decision making is this rash each week.
Another player who has let us down and won't be able to help us out in the fight for survival.