Leeds United have set their sights on appointing Rayo Vallecano boss Andoni Iraola as the successor to Jesse Marsch this week.
Losing to Nottingham Forest was the final nail in the coffin for Jesse Marsch's reign at the club, seeing him part ways with Leeds on Monday.
Victor Orta's task now is to source the correct successor in the dugout, as he scours Europe and beyond to find the right appointment this week.
While Michael Skubala is going to be taking charge for tonight's game at Old Trafford against Manchester United, negotiations look to be heating up with Rayo Vallecano's Andoni Iraola, as Fabrizio Romano reported that the 40-year-old is the club's top priority.
Here, our writers Alfie (N12) and Kris (FA5) look at whether the Spaniard would be a risk to appoint at this stage…

Whoever Leeds opt to appoint is a risk given the league position. It honestly feels like even a statement like Mauricio Pochettino would be a gamble given how precarious Leeds' position is.
With that in mind, it's probably best to look at this another way and focus on how positive Iraola would be for Leeds stylistically and from a point of driving standards.
His Rayo Vallecano side play with a lot of width, usually in a 4-2-3-1, a carefully thought out pressing style and are currently punching above their weight in La Liga.
That mirrors what we saw of Marcelo Bielsa's Leeds in the Premier League. Iraola played for the South American and you can see the influence on the surface of his coaching career so far. That's going to tick the box of 95% of Leeds supporters.
There's risk, obviously, in that Leeds in the Premier League is a bigger job than Vallecano in La Liga. The scrutiny on the 40-year-old would be huge.
However, the pros outweigh the cons for me and there would be doubts about even the most elite manager given Leeds' precarious position.
Iraola feels someone you could throw your weight behind, not just keeping Leeds up, but longer-term too.
Who should replace Marsch long-term?
Arne Slot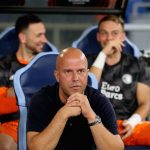 Andoni Iraola
Marcelo Gallardo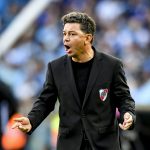 Other?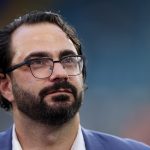 As Alfie points out above, there is an element of risk to any appointment Leeds make from this point, so you have to focus solely on the positives that each managerial candidate could bring.
What we can see from Iraola is a clear set of principles that not only made a distinct impact at Vallecano in his first season (2020/21), but have done over time too, underlining how it could easily be a good short and long-term move.
The most encouraging thing about the way he plays is the fact that there is far more control over possession, creating what you can clearly see are 'repeatable' attacking plays, working wide to both channels where overloads help his side get in behind for cut-backs, square-balls et cetera.
Defensively, there can be some concerns that the parallels between Bielsa's strict man-marking setup to what Iraola employs, but he's far more fluid and 'hybrid' with how he looks to win the ball back in a mid-block, still giving his defence plenty of cover.
In terms of the candidates we've seen, Iraola is the one that presents the best bet for me and would offer us far better chance of getting out of this than Marsch ever could.
Quiz: Can you remember Leeds United's last 15 results v Man United ahead of midweek clash?