Ben Brereton Diaz remains a transfer option for Leeds United heading into 2023.
Leeds are long-term admirers of the Blackburn Rovers forward, who has scored 26 goals in the Championship in little over 12 months.
The Chile international is out of contract at Ewood Park in the summer of 2023 and, as per a report from the Daily Mail, Leeds will happily pick him up on a free ahead of 2023/24 if they are able to.
Our writers Kris (FA5) and Alfie (N12) discuss the possibility of Brereton Diaz making the move to Elland Road as a free agent:

I definitely think he's worth keeping a close eye on, but I'd be surprised if he remains available by the time that we'd be signing him on a free.
The chance for foreign clubs to negotiate a pre-contract agreement is something that might really tempt him.
Having said that, if the chance comes for us to sign him for nothing, I think we'd be hard-pressed to find much better value for money.
We need to continue adding depth to our attack and while I don't think that he's someone who totally raises the levels of our starting strikeforce, his presence in the squad improves us a great deal.
If we're being greedy, him plus a marquee signing would be great business in attack.
The big updated Diego Llorente quiz – Can Leeds United fans score 20/20?

When you look at Brereton Diaz's goal record in the Championship, you are talking about a player that's probably worth £15-20m. Obviously other variables will make the deal cost Leeds something but without a transfer fee, it feels a bargain.
So, if Leeds are in the position next summer where they can get the 23-year-old on a free transfer, they'd be stupid not to explore it.
I've obviously got the similar concerns that Kris does in that Brereton Diaz is on the radar of so many clubs in Europe that surely one of those will offer him a pre-contract in the January transfer window.
It might actually be that Leeds' best chance comes in the January transfer window, where they could land the forward on a cut-price deal depending on Blackburn's position in the promotion race in the Championship.
You can probably conclude it would be good business on a free or on the cheap, and Leeds should be keeping tabs on the situation. My gut feeling, though, is that by next summer it'll be too late.
Should Leeds move for BBD?
Yes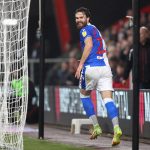 No