It remains to be seen whether or not Patrick Bamford features in Leeds United's final two fixtures of the season against Brighton and Brentford.
Leeds are battling to retain their Premier League status under Jesse Marsch, with Sunday's meeting with Brighton starting to verge on must-win.
Bamford hasn't featured since Leeds' win over Wolves in March due to a foot injury.
However, he's back in training now and Marsch has insisted it's almost a case of wait and see when it comes to him being involved on Sunday.
Our writers Kris (FA5) and Alfie (N12) discuss whether or not the 28-year-old needs to be risked.

I think we're at a point where there's actually more harm to keeping him wrapped in cotton wool, with what is at stake now.
We've already made the mistake of continuing to play him through injury for the past year, so these last two games might have to be where we roll the dice, at least by having him as an option.
It's make-or-break time now for us and what good do we get from leaving Bamford to fully recover? We could already be relegated by the time he's back for the final game.
Marsch needs more presence up front when we have possession, and Joe Gelhardt looks like a better option than Rodrigo out of our fit options, but Bamford has to be up the pecking order if he can play a part.
Even if we try to stay compact against the Seagulls and snatch a result late on, adding Bamford into the mix gives us far more of a chance with his quality in front of goal.
I just believe we're past the point of being able to play the waiting game on Bamford – it's now or never.
Should Leeds risk Bamford between now and the end of the season?
Yes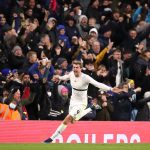 No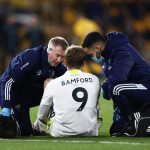 Given the fact that if results don't go Leeds' way on Sunday they could be all-but relegated, you've got to share the sentiment that it's now or never.
Leeds have to do the right thing by Bamford and if he says he's not ready that's fair enough. However, if he's been in training and is putting his hand up, Marsch has to think of a way to get him involved.
He did that against Norwich by starting him, giving him 45 minutes and trying to establish a lead, before taking him off. That worked in Leeds' favour eventually and might be something he looks to do again.
With Daniel James suspended and Rodrigo looking well off the pace as a No.9, it's either Joe Gelhardt or Bamford leading the line.
There seems to be this unwillingness to use Gelhardt sometimes, too, which only fuels your thought that Bamford might be given the first-half of what's feeling more and more like a must-win for Leeds.
A risk, yes, but we've reached the stage now where Leeds need to do something to get themselves out of bother.
That might well involve Bamford.
Quiz: Has Patrick Bamford scored more or less Leeds United goals than these 15 former players?