Leeds United boss Jesse Marsch has revealed his dreams for the USMNT, bringing up the suggestion he could be interested in the head coach job once again.
Writing in The Athletic, Marsch spoke glowingly of the side, but admitted it is perhaps a step too far for this young USA squad, who will be among the hosts for the World Cup in 2026. He said: "In reality, this World Cup is a stepping stone for the team going into 2026.
"We all want to see the team do really well now, but everyone back home is looking at 2026 and imagining what this can really become when the World Cup comes back to the U.S."
He believes that there is so much hope building for that tournament, he added: "Can they develop and grow in a way where, in three-and-a-half years, they can be talked about as semi-finalists? Finalists? That is the hope of what 2026 can mean."
His comments add fuel to a fire for people who believe he will one day take the reins as head coach of the national team. The current boss, Gregg Berhalter, is not the most popular figure with United States fans if social media is anything to go by. A poor performance at this tournament could see him removed ahead of the US's best chance in a generation in 2026.
Marsch, has 2-and-a-half years left on his current deal with Leeds United, and has come under pressure this season, despite relegation fears easing of late thanks to back-to-back wins against Liverpool at Anfield and Bournemouth at Elland Road.
The big updated Jesse Marsch quiz – Can Leeds United fans score 20/20?

He stated last week in his pre-match press conference for the game against Spurs that his current focus is on Leeds United and club football, but his comments in The Athletic as their writer during the World Cup have brought the issue to light again.
Phil Hay revealed in The Phil Hay Show  that Marsch's interest in the role could be something to keep an eye out for down the line, he said:
"As far as the US Men's National Team goes, Marsch actually speaks about that, from time to time. You know, when he gets interviewed, he does kind of touch on the fact that somewhere down the line, he sees that as a job that might be for him. Or he sees it as two parties who might well come together."
However, Hay believes that Marsch needs to be a manager with high stock in order to be given such a job, and that requires a focus at Leeds. He said: "But I think both he and Leeds will be hoping that it is a good while before that comes on to the agenda. I know, it's not as if the top, most elite coaches of the world are crawling all over the USA job, but you would think that in order to take that you'd have to have a good run behind you."
One way or another, Marsch will end up as the coach of his national team one day. That could be by 2026 when the USMNT's golden generation are peaking together, and from the recent noises Marsch is making about his hopes for the side, that opportunity is perhaps what he is hoping for.
Do you expect Marsch to be at Leeds long term?
Yes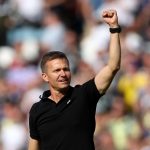 No