It seems that new Leeds United signing Tyler Adams is determined to be his own player at the club.
That's after the midfielder insisted that he is not at Elland Road to be another Kalvin Phillips.

With Phillips ending his long association with Leeds this summer to complete a move to Manchester City, new central midfield options have been a priority for the club in the summer transfer window.
That is an area that Leeds have since made addition to, with Adams one of those who has joined, moving from Leizig where he previously played under current Leeds manager Jesse Marsch.
The American international could be in contention to make his competitive debut for Leeds on the opening day of the Premier League season against Wolves on Saturday.
Given the position he will be filling, there are likely to be comparisons between Adams and Phillips, but it seems that is something the new Leeds man is keen to move away from.
Speaking about the prospect of taking over from Phillips at Leeds, Adams was quoted by the Yorkshire Evening Post as saying: "Kalvin Phillips is an unbelievable player. What he's done for Leeds speaks for itself.
"But I didn't come in to be Kalvin Phillips, I came in to be Tyler Adams and I'm a completely different player than Kalvin Phillips. He deserves that move to Manchester City but I am just here to be myself."

You can understand the approach that Adams is taking to the likely comparisons with Phillips here.
The Premier League is one of if not the biggest league in the world, so any player who gets the chance to play there is going to want to make his own mark in it.
Indeed, with the experience and quality that he has already shown at a very high level, there can be no denying the fact that he has already made a name for himself in world football, so he does have the potential to do that in the Premier League.
That does make this an exciting signing on the back of the disappointment of Phillips' departure, so it will be interesting to see just how he does fare in English football's top-flight.
Will Adams be as much of a success at Leeds as Phillips?
Yes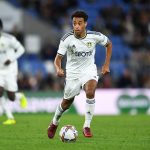 No