It seems that Leeds United will not be getting an easy ride when they travel to Brentford on the final day of the Premier League season on Sunday.
That's after Brentford manager Thomas Frank admitted that his side will be going all out to end the campaign with a win this weekend.

Leeds go into their trip to Brentford on the final day of the campaign, knowing they may well need a result to avoid relegation from the Premier League.
Indeed, if Burnley were to beat Aston Villa in their game in hand on Thursday, then it is likely that only a win against the Bees would keep Jesse Marsch's side in the top-flight.
By contrast, Brentford have enjoyed an excellent debut season in the Premier League, that could still see them finish as high as ninth in the final standings, with Frank's side currently 11th.
But it seems as though the fact that the pressure is off his side on Sunday, does not mean that Brentford will be resting on their laurels when they face Leeds.
Speaking about the approach that Brentford will take on Sunday after his sides win over Everton at the weekend, Frank was quoted by The Liverpool Echo as saying: "No, I think we will put the B Team out! We will put our very best team out there – it's so important to understand we need to do our very best to win.
"It is nothing about Everton, Burnley or Leeds and I know in my press conference I will get a lot of questions between the story about me and 'so-called' Leeds fans and a video, but there is no story there from my perspective.
"Everyone will do our best to try and win on Sunday, and if Brentford can finish top 10, that's remarkable. As far as I know, there is a fair quid to gain if you finish higher, for the Club.
"It's very simple; maybe after 10 years in the Premier League you don't care if you finish 11th or 9th but for us, every game is a cup final."

This is absolutely the right approach for Brentford and Frank to take.
For starters, the likes of Everton and Burnley, who are battling Leeds for survival, will expect the Bees to approach the game in just the same way as they did against them, in the interests of integrity.
Beyond that, Brentford should surely be looking to an excellent season on a high, and the extra prize money they can get from finishing a couple of places higher could be crucial in the transfer market.
That of course, will not make things easy for Leeds, but that is nothing more than they should expect here, and it will be a test of their strength in many different ways, to see how they respond to that.
Is Frank right to say Brentford will be going all out against Leeds?
Yes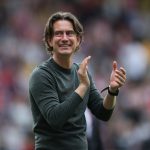 No