Leeds United could yet survive relegation, providing they can better Burnley's points tally in the remaining fixtures.
It's not looking great for Leeds as they find themselves in the bottom three on goal difference with two games to play.
Meanwhile, the Clarets have three to play as they catch up on a game in hand next week.

Leeds' next clash is at home to Brighton, with Jesse Marsch hoping his side can put three straight defeats against challenging opposition behind them.
A win would likely see Leeds step out of the relegation zone as Burnley travel to Tottenham earlier in the day.
As much as Leeds' run-in has been highlighted as an extremely difficult one, so is Burnley's with trips to Spurs and Aston Villa capped off with a home clash against Newcastle.
With two games to go, will Leeds stay up?
Yes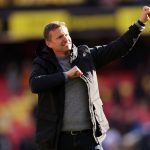 No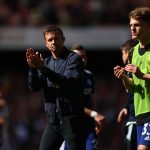 Frequent Sky Sports pundit Paul Merson believes Leeds have a good shot of climbing out of the bottom three on this basis, where he had this to say in his Daily Star predictions:
"Leeds have self-destructed and they are playing their own cup final this weekend against Brighton. I didn't see this Leeds collapse coming. I didn't. They are completely and utterly in panic mode.
"It was a terrible tackle by Daniel James the other day against Chelsea. You do not need that happening. You've got to show some composure. But they've got two games that are winnable and if they beat Brighton or get a point I think they stay up – because I don't see Burnley winning another game.
"They just have to stay composed because there's too much madness at the moment. I don't like to use the word brainless, I prefer composure. But there are people who panic under pressure and there are people who don't, and these players are self-destructing.
"They have got to pull themselves together because they need to stay in the Premier League and it's getting harder and harder. Everton have started picking up points and it's in their hands to stay up now so Leeds have got to respond."

With our two games, it's potentially easier for us to pick up a win against our opposition than it is for Burnley, but that doesn't mean we're in the clear.
We need to pull something out of the bag here to stay up, and the pressure hasn't done well for us lately, as Merson alludes to with the red cards.
Composure is vital at this stage and we'll just have to see whether we've got more of it than Mike Jackson's Burnley.
The fact it's come down to whether we can get more points than Burnley in the final two weeks of the season says a lot about the mismanagement of the season as a whole.