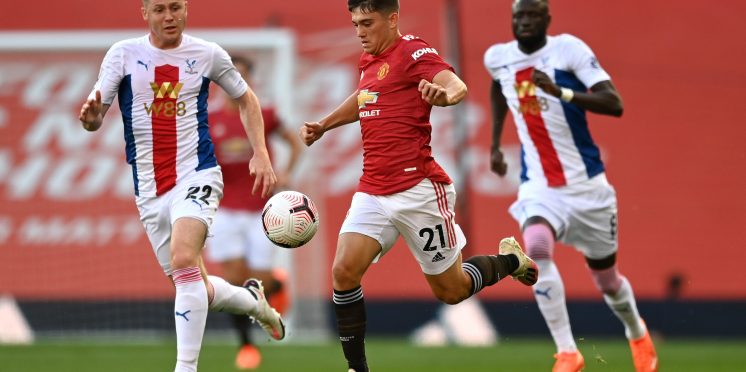 Sky Sports: Club have problem with sanctioning player's potential Leeds United move
Leeds United look as though they will have to wait on Manchester United completing business of their own before they are able to complete any sort of deal for Daniel James, Sky Sports reporter Dharmesh Sheth has suggested.
The Whites are apparently interested in a move for James this summer, but it seems United are unwilling to let the Welshman leave as things stand at the minute, due to the lack of options that could leave them with.

Despite already spending big on the likes of Rodrigo Moreno, Robin Koch and Diego Llorente this summer, it seems as though Leeds' transfer business is not done yet for the summer, as they look to build a squad capable of competing in the Premier League.
It was recently reported in The Sun that Leeds are considering a fresh approach to Manchester United for James, having been infamously close to signing the winger when he was at Swansea back in January 2019.
Now, Sheth has confirmed that Leeds are interested in a move for James, but says that any such move could hinge on his current club's ability to bring in another attacker, such as Jadon Sancho from Borussia Dortmund.
Speaking about the situation surrounding James' at this moment in time, Sheth was quoted by Sky Sports' Live Transfer Blog (23/09, 17:43) as saying:
While Manchester United are struggling to offload players, there does appear to be a concrete interest from Leeds in the winger Daniel James.

Would United consider letting James go out on loan? Ordinarily, yes. The problem is that he is currently the first-choice back-up to Mason Greenwood on the right side.
Assessing how a move to bring Sancho to Old Trafford could change things with regards to Leeds' pursuit of James, Sheth went on to add:
So that brings us back to Jadon Sancho, and you wonder if James will be allowed to go out on loan without Sancho or an alternative was brought into the squad. 

It would appear that he wouldn't unless they brought in Sancho or a replacement. United fans are getting anxious with 12 days left to get business done.
As things stand, there are still four years remaining on James' contract with Manchester United, meaning the club are in a strong position to negotiate over the 22-year-old, regardless of whether or not they are able to complete a deal fr Sancho in what remains of the transfer window.

You have to feel that this will be something of a concern for Leeds.
Manchester United's reluctance to let James go until they have an alternative in is understandable, given they are not going to want to leave themselves short on numbers in a season where the schedule is so heavy.
But given the Old Trafford's club recent record in the transfer market, you have to wonder whether they will be able to get a deal done to bring in an adequate replacement for James, and in enough time for Leeds to then negotiate a deal for the Welshman with both club and player.
As a result, you have to feel that Leeds would be well advised to have other options on standby in case the door does not open for them with regards to James, and given the sheer number of players they have been linked with across the course of the window, it would admittedly be a surprise if that was not the case.
---