Leeds United's pursuit of Rayo Vallecano's Andoni Iraola is one that does not fill Simon Jordan with confidence as a relegation battle looms once more.
The search for a new manager is hotting up for Leeds with Andrea Radrizzani continuing to update fans on the ongoing negotiations to take a key candidate from his current club.
Andoni Iraola is the club's priority right now, according to Fabrizio Romano:

The Rayo Vallecano man is seriously impressing in La Liga this season, with their win on Monday night taking them up to fifth in the table and in with a shout of pushing for a Champions League place.
At 40, he's still relatively new to the game compared to the cliched group of managers with "Premier League experience" that have so often been pleaded to join the club on various outlets.
Simon Jordan has now fallen into that category, stating his concern for Leeds with their interest in appointing the Spaniard, given his similarities to Marcelo Bielsa – having played under him during his Bilbao days.
Speaking on talkSPORT, Jordan had this on a manager that Jim White pointed out is a "disciple" of Bielsa.
"First of all, Bielsa was the lightning rod to get Leeds out of the Championship, which cannot be taken away from him.

"But I also think that despite the hero-worshipping, there was a distinct possibility he could have got them relegated, which is of no use to man or beast.

"I get a bit tired of this idea that everyone's a disciple. Once upon a time, it was fashuonable to be a disciple of (Jose) Mourinho's, then (Pep) Guardiola's, now it's fashionable to be a disciple at the temple of Bielsa.

"If they are going for someone who brings organised chaos, they don't need any help with that as they have got that already.

"That's what got them in the mess they are in. Jesse Marsch provided organised chaos. They don't need organised chaos.

"They need to structure a side and give it some balance. I hate the word philosophy but get some organisational thinking about how they are going to play and then stick to it."
Who should replace Marsch long-term?
Arne Slot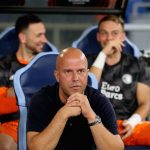 Andoni Iraola
Marcelo Gallardo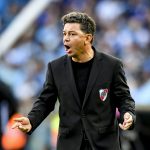 Other?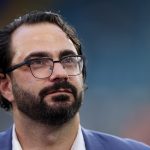 Organised chaos is a very poor way of looking at a manager that presses to win the ball high, and while that was exactly the case with Marsch, it's not with Bielsa nor Iraola.
Pressing in order to cut off passing lanes in man-to-man scenarios, and recover possession frequently from that, is not 'chaos' – it's complete control over a match.
Leeds, under Marsch, have never been totally in control of matches, but instead tried to take advantage of a fluctuating game through counters and transitions, rather than dominating possession and crafting chances that way.
If a game's state swings on a pendulum, then you're putting results down to luck, and that was Marsch.
With Iraola, there is a very obvious structure and way of playing. It's just a shame Jordan is unable to do even the tiniest shred of research.
Quiz: Can you remember Leeds United's last 15 results v Man United ahead of midweek clash?