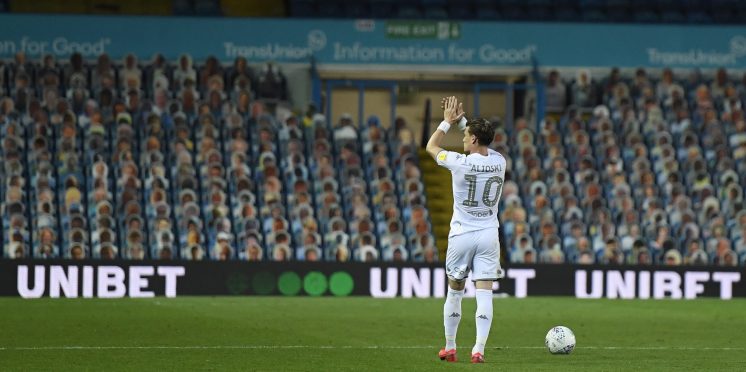 Report claims Leeds will have price to pay if they win promotion this seaso
Leeds United face paying £8million to the Premier League if they win promotion to English football's top-flight this season, a report from The Guardian has claimed.
Due to the postponement of the season, and its subsequent move behind closed doors, the Premier League has been forced to pay a £330million rebate to broadcasters, and it seems clubs coming up to the division may now be made to contribute to that payback in some way.
According to the latest reports, the three clubs who win promotion this season, and next season, could be charged £8million each in order to help cover some of the revenue lost as a result of that rebate.
Clubs who are relegated from the Premier League in that time could also be made to pay, with a portion taken out of the parachute payments they receive when they drop down to the Championship.
With Leeds currently top of the Championship table, six points clear of third-placed Brentford, there is a strong chance that this new stance could have an impact on Marcelo Bielsa's side.
Promotion to the Premier League is thought to be worth around £180million to clubs, with the £8million charge discussed here expected to be deducted from the money usually paid out by the league.
Not surprisingly, the news of this charge has not gone down well amongst those clubs chasing promotion, who are said to see this as a raid on Championship clubs, rather than the Premier League providing support to clubs further down the football pyramid as requested by the Government.
Admittedly, while it is not the fault of Premier League clubs that they are being forced to pay this rebate, nor it is the fault of those clubs battling for promotion from the Championship.
As a result, this does seem as though they are being punished for something that they could do nothing about, and have already suffered from themselves, as well as for succeeding in the battle to win promotion.
It could therefore be argued that neither those Premier League clubs imposing this charge on promoted teams, nor the broadcasting companies demanding this rebate, come out of this looking particularly well when it comes to helping teams get through this difficult period without finding themselves looking at an even more uncertain future.
---