Simon Jordan of talkSPORT has admitted he "admires" Leeds United and believes they could be a "potential powerhouse" in the Premier League again one day.
The Whites are in the midst of a relegation battle, as they were for much of last season as well.
Jesse Marsch was sacked in February, leaving Javi Gracia with the task of keeping Leeds in the top flight for the 2023-24 season.
Quiz: How well do you know Leeds United head coach Javi Gracia? Find out here…
Can Leeds be a Premier League powerhouse?
Speaking on talkSPORT, Jordan outlined his feelings of Leeds as a club, he said: "I am a great admirer of Leeds United as a football club. I think they are a potential powerhouse of a football club with this passionate fan base steeped in great history and achievements in the past."
However, he questioned the decisions made from the board in recent times, he added: "But, to my mind, it doesn't make a lot of sense. There's also this kamikaze style of football they play that, sometimes, you do have to rein it back in a little bit every now and again."
Jordan finished by adding an ominous message for the club this season, implying that he thinks that this season could well be the one they are relegated in, he said: "It's great to be the team other people want to watch because you do want to watch Leeds United. They are a very interesting side to watch. They're a very engaging side but, when you're struggling in the first season, you're then struggling even worse in the second season.
"If you keep flying close to the sun, you're going to get burned in the end, aren't you?"

Jordan's assessment is spot on. Leeds have huge potential as a club, but mismanagement has put them in the precarious position they are currently in, for the second season in a row.
The Whites could be relegated, and the majority of the blame would fall at the feet of the hierarchy, who could have made changes such as Marsch's sacking far sooner.
Perhaps one day Leeds will be a powerhouse of English football again, but it feels a long way away at the present time. The club's immediate future and staying up is what is at stake for now.
Will Gracia keep Leeds up?
Yes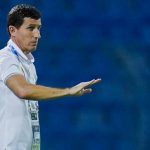 No