Joe Gelhardt's Leeds United exit is expected to be signed off before the end of the month, but Swansea City looks set to miss out.
Leeds' signing of Georginio Rutter for a club-record fee was always going to shake up the attacking pecking order at Elland Road.
The player most directly impacted by the arrival of Rutter is Joe Gelhardt, who now finds himself as fourth choice in the running up front.

A loan move was inevitable for Gelhardt heading into this month, with a host of clubs in the second tier bound to be taking an interest in the England under-21 international.
Five clubs have been cited with strong interest in signing the striker: Hull City, Blackburn Rovers, Wigan Athletic, Sunderland, and Swansea City.
Now, The Athletic's Phil Hay has seemingly ruled out Russel Martin's Swansea in the race to land Gelhardt's signature.
Speaking on The Phil Hay Show podcast about the forward's immediate future, he had this to say:
"Gelhardt is still here at the moment. He's trained, was there yesterday (v Brentford) as well.

"Swansea seem to be out of that now, out of the running there. Wigan are favourites to get him, I think expect to get him.

"Gelhardt seems keen to go back there. He obviously came from Wigan to Leeds in the first place, obviously very familiar with it, knows a lot of people there.

"But Sunderland also another side who have been having a look at him and would definitely take him if they could.

"It feels like a big decision that for Gelhardt. Wigan are struggling quite badly in the Championship and he could help that. It's going to be a big run of games for them.

"Sunderland are very much in the mix for the playoffs and I guess it's a question of beyond how comfortable you feel at a club."
Hay relays Sunderland interest, that we exclusively revealed earlier in January for Gelhardt, with his former club Wigan still at the front of the queue.
Should Leeds be loaning Gelhardt out?
Yes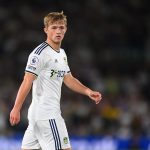 No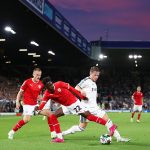 Gelhardt needs to be careful when it comes to picking his next club, because it could be the difference between him developing well and stagnating for six months.
As much as Wigan are a club he's fond of having played there, I do wonder whether they are the best bet for him.
There are better sides playing far better football in the division, that he'll still get into the starting lineups of.
It will be up to him, but he needs to consider everything when thinking about where he should go this month.
Quiz: Can you remember the last 15 clubs to knock Leeds United out of the FA Cup ahead of fourth round clash?