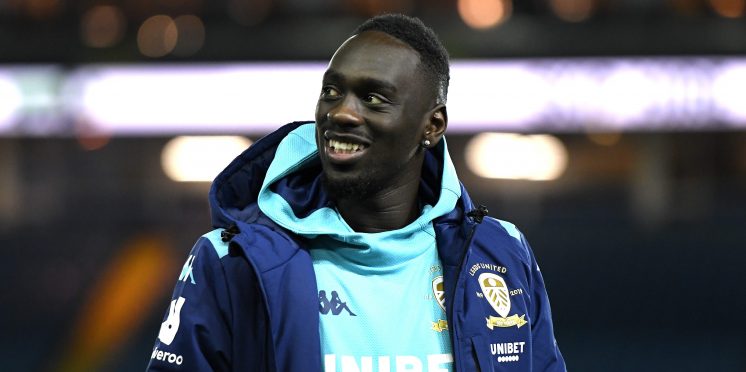 Phil Hay reveals Leipzig's view on permanent Leeds move for Jean-Kevin Augustin
The Athletic's Leeds United reporter Phil Hay says Leipzig are convinced Jean-Kevin Augustin will make his loan move to Elland Road permanent at the end of the season, if the club wins promotion to the Premier League.
Augustin joined Leeds on loan from Leipzig – with the option of a permanent move back in the January transfer window – but things have yet to go the way the striker would have wanted.
So far, fitness issues have restricted Augustin to just three substitute appearances for Leeds since his move, and it has recently been reported that the forward has suffered a recurrence of a hamstring injury that could keep him out for the remainder of the season.
Those problems are something that you would imagine will make Leeds hesitant about committing to a permanent move for Augustin, although Hay now appears to have suggested that the Championship promotion hopefuls may not have a choice in the matter.
Discussing Leipzig's stance on a permanent move to Leeds for Augustin on the Phil Hay Show Podcast, Hay revealed: "I've been in touch with people over in Germany, and as far as [Red Bull] Leipzig are concerned, this is going to be a permanent transfer if and when Leeds go up.
"They're in no doubt that Leeds have committed to doing this permanently."
This may be something of a concern for Leeds.
While there is no doubt Augustin has the potential to play at the highest level, if he is unable to get himself fit enough, they are simply not going to be able to benefit from that ability.
Add to that the fact that it has previously been claimed it will cost Leeds £18million to make that deal for Augustin permanent, which could restrict them when it comes to other areas of transfer business, and this could get somewhat problematic for the club.
You would like to think that Leeds have however taken the precaution to insert a clause into Augustin's loan deal that would allow them to get out of the move if certain requirements are not met, and it will certainly be interesting to see how this plays out over the next few months.
---