Opposition clubs are getting wise to the threat posed by Wilfried Gnonto for Leeds United.
That's according to The Athletic's Phil Hay, who says that the 19-year-old does however, have a big part to play for the club between now and the end of the season.
How have things gone for Gnonto at Leeds so far?
Having joined the club in the final hours of the summer transfer window from FC Zurich, Gnonto was initially made to wait for a chance in the first-team.
But after being given his debut, it felt hard to see him looking back, with the winger becoming a crucial figure in any hopes Leeds had of avoiding relegation, due to his creative spark and finishing ability.
So far, the teenager has scored four goals and provided one assist in 18 appearances in all competitions for the club.
However, his influence on matches has dropped in recent weeks, and Gnonto even found himself on the bench for the weekend's defeat at Chelsea, only coming on midway through the second half.
Now it seems as though Hay believes that may be due to the attention his form has attracted already this season, forcing teams to focus more on him, when they take on Leeds.
Can you get 100% on this Wilfried Gnonto quiz?
What has Hay said about Gnonto after his benching at Chelsea?
Speaking on The Phil Hay Show about Gnonto in the wake of the winger being dropped to the bench at Stamford Bridge, the reporter said: "Gnonto is somebody they're going to need some output from before the end of the season.
"I think what I've noticed from him, and I guess the issue for him, is that it does seem after that period where he could do no wrong and was having such a big impact on games it does seem as though analysts and managers across the league have applied a clear eye to that and said this is somebody we need to keep a handle on and somebody we need to negate, double up on and whatever it is we do to stop him having the freedom of the pitch."

It is going to be vital for Leeds that Gnonto finds a way to make more of an impact in games again.
When he was in form, the teenager looked to be one the few players who could make things happen in a way that was needed for Leeds to get the results that might keep them in the Premier League.
As a result, it is no surprise other clubs have started to focus on him more when up against Leeds, and that may be hard for Gnonto to get used to, when it is likely to be the first time in his career it has happened.
There is plenty of pressure on him as a consequence of all that, and this could be a useful learning curve for him when it comes to his career as a whole, although you imagine Leeds would prefer for that to have come in a situation where the stakes are not as high for them as a club.
Should Gnonto return to the starting XI vs Brighton?
Yes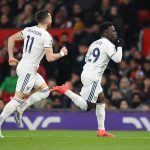 No