Many Leeds United fans will have cottoned onto the strange angle of Marcelo Bielsa's glasses, and Patrick Bamford has explained what happened.
Aside from the dynamics of his team and how each match goes, you'll do well to get personal anecdotes out of Bielsa.
He's clearly been warming up to the role at Elland Road since he joined, but some questions remain without an answer.
Until now, one of those was his incredibly wonky glasses.

It's quite obvious, but something isn't quite right with the glasses Bielsa is wearing currently: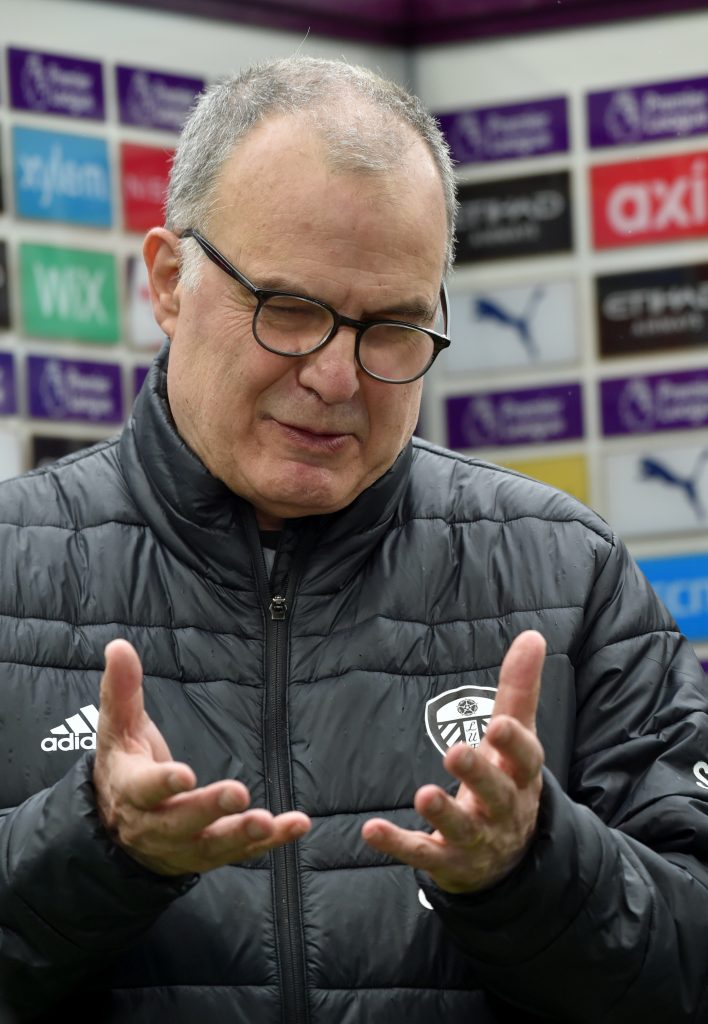 The Argentine is clearly not the type of man to kick up a fuss.
However, Patrick Bamford has revealed as to why he's currently battling on with crooked spectacles.
Appearing on the Peter Crouch Podcast, Bamford discussed the Thorp Arch incident that caused it:
There was one time this season where we were doing a crossing drill and he always positions himself in an awkward place.

The ball has come in and I've connected with it so sweetly on my left foot. It's near the top corner, and he's stood right inside the goal.

I've not seen him and I've just hit the ball. I'm not joking it's come flush straight off the bridge of his nose. All I've seen is his glasses fly about 10 metres and him holding his nose.

He's walked off holding his nose and I was like 'sorry, sorry, sorry'.

He's gone a little big angrily, de nada, de nada, it's nothing. He's walked past us about five minutes later to go and see the physio and he's got a big cut across his nose.

And then his glasses – I don't know if you've noticed when he's doing an interview he's using the same glasses and they're not straight, they're wonky. So I feel bad, I should really get him a new pair but I'm scared to bring it up again.

It's good to see that one's cleared up, because it's been bugging a fair few people, including myself.
It also shows how hard Bielsa is working at the moment that he simply hasn't got time to source new glasses.
Hopefully he's not holding a grudge against Bamford for it, because it sounds like he took a hefty blow from it.
However, it does seem a bit odd that he's stood in the goal when the players are in the middle of a shooting drill.