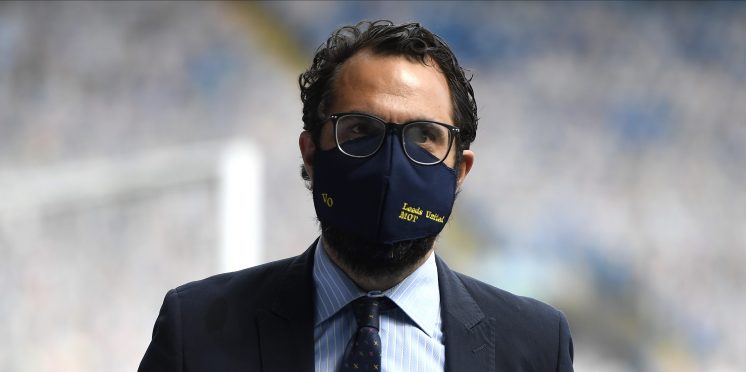 Noel Whelan reacts to rumours of departure from Leeds United
Former Leeds United striker Noel Whelan says he does not think Victor Orta will leave the club this summer, despite reports of interest in the Whites' director of football from elsewhere.
It was recently claimed that Bundesliga side RB Leipzig are interested in appointing Orta as their new technical director following Paul Mitchell's departure from that role to take up a similar position at AS Monaco earlier this year.
Whelan however, does not believe that Orta will have any interest in a departure from Elland Road anytime soon, even with Leipzig's status as a Champions League club.
Speaking to Football Insider about those reports linking Orta with a move to Germany, Whelan said: "Well look, if he's going to start recruiting for his team for the Premier League, having not been there for a long, long time, it's a job hard to walk away from because you want to be there for that journey.
"Victor has brought in some players that have really made the difference, he's brought in some that haven't – that's the chance you take when you're a football club, some work out, some don't.
"We've got to say, based on the signings that have come in so far and the acquisitions at Leeds United, they've been very successful and are why we're here at this point, pushing towards the Premier League."
Reflecting on Orta's time at Elland Road so far, Whelan believes that Orta will want to continue his journey with the club, as they close in on a long-awaited return to the Premier League this season, with Whelan adding: "We can't say he hasn't done his job right. People will be looking at him thinking what can he do for their club?
"It would be difficult to walk away from that opportunity to recruit players to be a successful Premier League side.
"I would have thought Victor, who seems to love the club, I've seen his passion when Leeds United are playing, I can't see that one happening.
"I think he would relish the opportunity to get into the club to be a Premier League outfit."
Since joining Leeds from Middlesbrough in 2017, Orta has been a key figure in securing a long list of signings for the Whites.
With recruitment likely to be vital to the club's chances of being competitive in the top-flight next season should they win promotion, Leeds will no doubt be desperate to retain the services of Orta himself as well.
Given the work he has done for the club, you imagine Orta himself will want to complete the journey back to the Premier League with the club, and then see how far he can help take them in the top-flight.
---