Jermaine Jenas has been gushing over the moment of skill displayed by Joe Gelhardt in Leeds United's draw with Brighton.
After Burnley's 1-0 defeat to Tottenham on Sunday, the door was wide open for Leeds to take at least a point at home to Brighton to climb out of the relegation zone with a week left in the season.

Pascal Struijk's header in stoppage time saw the Wites take a deserved draw from the game after cancelling out Danny Welbeck's chip in the first half.
Even though Struijk scored the goal, most of the reaction was around the outrageous skill from Joe Gelhardt to put it on a plate for the defender.
As Diego Llorente worked the ball wide to the young striker, Gelhardt stood Lewis Dunk up, before checking back and forcing the Brighton skipper to lose his footing, to then flick the ball over his outstretched body and cross to the back post.
It was a moment of sheer brilliance and creativity from Gelhardt and Jermaine Jenas was loving it on Match of the Day 2:
"Gelhardt then comes to life," he said.
"This bit of skill here is one of the best pieces of skill you're going to see all year from a lad who has stuck at it all game and provided the assist for potentially what is going to be for a goal that is going to keep them in the league.
"That bit of skill there from Gelhardt is incredible."
Should Gelhardt be guaranteed to start now?
Yes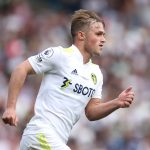 No

It takes a special sort of player to even think that this would be possible, let alone when we need a goal with this pressure on.
We've known since he joined that we have an incredible talent on our hands, but producing these moments in big games is something else.
He's already worth his weight in gold to us thanks to his contributions this season, but every moment like this just adds more value.
There's no way he remains on the bench from now on, because he was the best thing about that game yesterday, even if we started to play better as time went on.