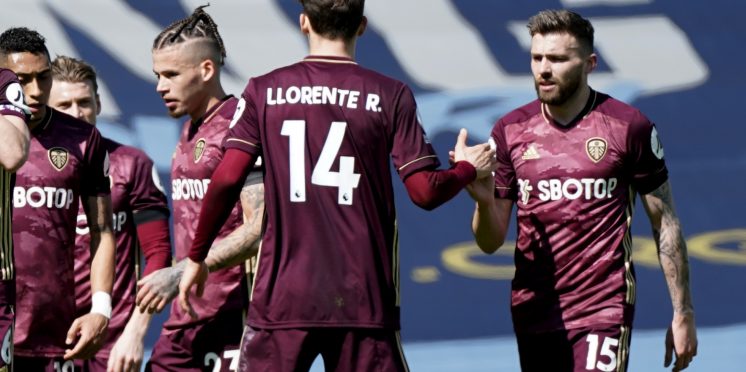 Marcelo Bielsa reveals honest thoughts on Leeds United's chances of European qualification
Leeds United's win over Manchester City has put them in with a good chance of European qualification this season, as a top half finish looms.
The Whites clinched promotion back in July and had one goal in mind for 2020/21: survival.
It's safe to say that barring a miraculous turn of form from every team down to West Brom, it's a certainty Leeds are safe.
However, three consecutive wins have lifted Leeds into the top half and only four points away from a potential spot in the new Europa Conference League.

Leeds face Liverpool next on the back of a stunning win away to the league-leaders, Manchester City.
It's the second of three games against some of Europe's best sides in April. Manchester United follow the Reds at Elland Road the following week.
We have one test out of the way and passed with flying colours. This game presents another chance to stack ourselves up against the elite.
A good run of form could easily see Leeds qualify for Europe, and prove their ability to compete with the 'big six' too.
This game is a free hit, but Leeds will tackle it as equals against the reigning champions on Monday night.
Bielsa was asked about how his side has faired versus the 'big six' this season, and delivered mixed verdict.
He stated (via Leeds Live):
If we guide ourselves from what's happened this season, from the results or performances we can see against the traditional top six, only against Arsenal were we able to play against equals in the first half of the home game.

The second half of that game played with one man more.

In the game against Man Utd, we did not deserve a better result. Perhaps, the margin should not have been so high, but they deserved their win, the same with Tottenham.

The two Chelsea games were difficult especially the first. The draw against Chelsea we deserved, but in a game they dominated and we did not deserve to win it.

Two games against City, at home the draw was fair and in the first half of this game they were better than us and in the second we were a man down.
A fair assessment of Leeds' performance against the top sides. Bielsa then added this on Leeds' European prospects:
My conclusions are not the same as yours. We haven't been able to play as equals against the traditional top six.

To anticipate when this will happen is not prudent.

These types of things, more than announce them, you have to demonstrate them and tup until now we haven't managed it.

I think Bielsa is spot on with his analysis of each game.
We've definitely deserved to take points off Chelsea this season, along with Manchester City and Arsenal too.
However, the attacking quality of Spurs and Man United made those games a mismatch and deserved heavy defeats.
Hopefully, we've proven enough this season against the rest of the league that we can push into the top half.
With one impressive season, we've got a huge chance of consolidating and battling for Europe next season with further investment.
---