Leeds United full-back Cody Drameh's long-term future is in serious doubt following a sour-tasting loan move to Cardiff City.
Leeds don't have much space to let players leave this month with how many injuries are currently present in the squad.
Bielsa's side is thinly covered as it is, so sanctioning departures would be an unwise move.

Despite this, Leeds let Cody Drameh leave on loan to Cardiff City this week for the remainder of the season.
It's a move that took a lot by surprise given that it emerged hours after his latest outing in the FA Cup against West Ham.
However, Marcelo Bielsa's latest comments on the defender's exit are damning for his future at Elland Road.
Speaking in his pre-match press conference, Bielsa stated (via Leeds Live):
"He preferred to go and play outside of Leeds. In a situation with opportunities for youngsters has increased clearly, in this case, Drameh would prefer to experiment outside our team.
"I consider that position valid and I do not think it makes sense to oppose him. What I imagined as a great opportunity, he imagined it in a different way.
"It's more important what he thinks than what I think. I don't think it's convenient to impose in a situation where a player does or does not want to belong.
When asked about whether he was disappointed in this situation, Bielsa continued:
"No, [not] disappointing, no. Having said that, a lot of the young players who have accompanied the first team have chosen to go elsewhere.
"Evidently, what I have proposed to them is not what they desire. So I do not criticise it, I don't condemn it. It doesn't disappoint me.
"Clearly, I calculated things wrongly because what I consider a great opportunity, there are very few or no teams with youngsters like us in the PL. Those who are benefiting from that position, they prefer to abandon the club looking for another type of competition. Evidently, what I imagined as a great chance, they don't. All of that in football at the moment is impossible to decipher.
"But the reasons that are taken and that are made is that footballers are the ones who have the least opinions in the management of their careers."
Bielsa's lengthy answer on the matter is a strong enough indication that Drameh's (or his agent's) actions could put his career at Leeds is serious jeopardy.
Fans have also spotted what they believe to be suggestions from social media with Drameh removing most traces of his affiliation with Leeds from his Instagram profile, with his bio, following list, and photos not including Leeds: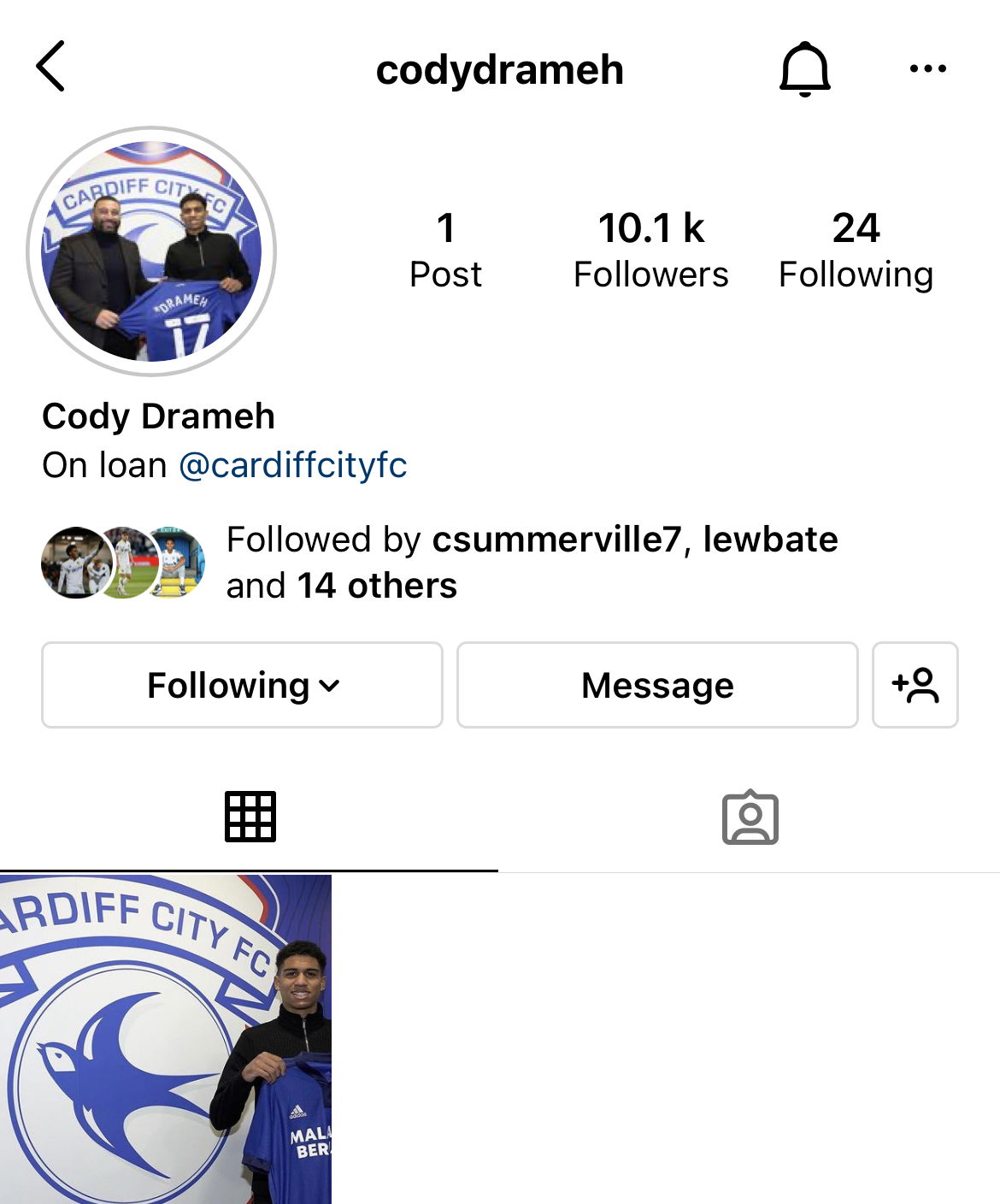 This could be a red herring when it comes to deciphering Drameh's stance on the matter, given that he's often removing pictures from his feed and keeping his profile away from much noise.

In my opinion, this doesn't look good for Drameh having a future here.
Whether it's his agent that has pushed through a move or himself, it's not a great play to go against what Bielsa would desire for your development.
He's now at a point where the manager in charge doesn't believe his head is in a good place to play for Leeds, along with a fanbase that agree.
I hope his Cardiff loan goes well, but I don't expect Thorp Arch to be the most welcoming place for him when his temporary spell in Wales concludes.