Manchester City attacker Jack Grealish has played a key role in the club's move to sign Leeds United midfielder Kalvin Phillips.
That's according to a report from The Daily Star, who have been outlining Grealish's influence in the completion of this deal.

Although it is yet to be officially confirmed, it seems inevitable that Phillips will be a Manchester City player sooner rather than later.
It has been reported that the Premier League champions have already agreed a deal with Leeds to sign the 26-year-old, for a fee in the region of £45million.
The midfielder was due for a medical with City on Friday, meaning a deal now looks imminent, and it seems one particular player has an important role in getting this one to happen.
According to this latest update, Grealish was a key influence when it came to convincing Phillips to make the move to The Etihad Stadium.
Indeed, it is even thought that Phillips is set to join the same football agency group that Grealish is already part of.

It is perhaps no huge surprise that Grealish has played an important role in securing this deal for Phillips.
The pair have of course been teammates for England for some time now, so there is inevitably going to be a connection between them.
That is something that City may well have exploited to get this transfer over the line, and it will be intriguing to now see whether that is something they look to take advantage of on the pitch.
Even so, regardless of how the move has come about, Leeds will be well aware of the challenge they now face in coping with the departure of Phillips, and seemingly Raphinha as well.
Will Leeds be able to cope without Phillips?
Yes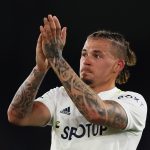 No