It seems that the appointment of Leeds United managerial target Marcelo Gallardo will not be a cheap one.
That's after a report from Argentinean outlet El Futbolero claimed the 47-year-old will demand a seven-figure annual salary from his next club.
What happened with Leeds and Gallardo?
Following the sacking of Jesse Marsch last month, Gallardo was named as one of those on Leeds' shortlist to take over at Elland Road.
The Argentine is currently out of work, having left his role with River Plate after more than eight years in charge back in November.
Ultimately though, no appointment materialised, with it reported that Gallardo turned down an offer from Leeds, due to the fact he did not want to take over the role halfway through a season.
How much would it cost for Leeds to appoint Gallardo?
With it being reported that Javi Gracia has only signed a contract with Leeds until the end of the season, the Whites may need to search for a new manager again in the summer.
However, it at point, Gallardo was to be willing to make the move to the Premier League, it seems he would be a cheap appointment.
According to this latest update, the 47-year-old will demand an annual salary of £6.5million from his next club, amid that interest from Leeds and fellow struggles Southampton.

This is something that will likely give Leeds plenty to think about if they do have to search for a new manager in the summer.
Gallardo is a manager who has plenty of pedigree from his time with River Plate, where he did enjoy a decent amount of success.
However, he is a manager who is untested in Premier League, and indeed European football, meaning it could be a risky appointment, not least when you consider the size of the finances that would be required for it.
As a result, there will be plenty of due-diligence needed to be done, if they are to consider the potential appointment of Gallardo anytime soon.
Should Leeds pay this salary for Gallardo?
Yes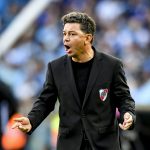 No