Luke Ayling has insisted that he's hoping for a speedy recovery after the Leeds United right-back had a knee operation ahead of the end of the season.
Leeds secured their Premier League status on the final day of the season, beating Brentford 2-1 as Burnley lost to Newcastle United.
They were without Ayling for their final three fixtures of the season due to suspension, whilst Leeds also confirmed that the 30-year-old had a knee operation after that to help a long-term issue – his time expected on the sidelines is two-four months.
Taking to Instagram, Ayling confirmed that his operation had been successful and he was hoping for a "speedy" recovery. He also admitted that the 2021/22 campaign, where so much threatened to spiral out of control for Leeds, was "the most mentally and physically demanding season so far."
Quiz: 15 questions about Luke Ayling – How well do you know the Leeds United right-back?

You can see it's been a tough season for Leeds' players. They've looked spent for some time and the raw emotion of their celebrations at Brentford screamed relief more than anything.
Ayling has had an injury-hit season, too, although prior to his sending off at Arsenal, he was playing well and has contributed greatly under Jesse Marsch to get Leeds to safety.
This summer will give him and his teammates the chance to refresh not just their bodies, but their minds too, and by back stronger for 2022/23.
In Ayling's case, fingers crossed he can have that speedy recovery and get back early on in the campaign.
Should Ayling be Leeds' first choice right-back again next season?
Yes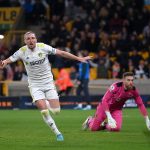 No