Leeds United's Director of Football Victor Orta has doubled down on his appointment of Jesse Marsch.
The American coach has been in charge of The Whites since February 28th following the dismissal of Marcelo Bielsa.
Orta admitted at the time of his appointment that he had been in contact with Marsch for a number of years, he said: "Jesse Marsch is someone we identified a number of years ago. His philosophy and style of football aligns with that of the club." (Fabrizio Romano).
Orta has shed further light on these comments from February, as we take a look at him doubling down on an appointment he feels vindicated in making.

Orta, speaking in The Telegraph, admitted that the club had contingency plans in place for life post-Bielsa, but the plans to instate a new head coach were brought forward when the side found themselves in relegation trouble. He said: "All we did was to bring the process forward. Jesse Marsch was one of the favourites, he was without a team at the time, and we decided on him."
The Spaniard continued by saying how much he loves the style of play, but that he didn't want too drastic of a shift away from the Argentine's style, either. He added: "His model of play was similar to Bielsa's in terms of pressing, intensity and physicality.
"We wanted to keep the things that had worked and make a more moderate transition. Marsch is a coach with a style that is trending in Europe right now, offensive, with a lot of energy. I love that. We also used big data as a filter, and what he was like as a person. Everything was analysed in detail."
He insists there is more to come from a side who find themselves currently in 11th, he said: "I think there is a lot of room for growth. There's still a lot to do. He has a tactical depth that needs time to develop, hopefully at Leeds the results will go with him so he can continue to apply it."

The style of football didn't particularly enamour many fans at the end of last season, but it appears more joined up and engrained now with more signings accustomed to how Marsch is set up. Given that the teething issues are out of the way with the squad built more in his image, there are no excuses now for things to click.
Orta has recruited players aged 25 and under this summer, which is something that should serve Leeds well down the line as a team who can grow and improve together before hitting their prime.
Despite no win in three, Orta will be feeling vindication with the appointment of the American as well as the signings that have come with it since. Leeds' Director of Football will be delighted to have a manager more receptive to signings and more regular changes in personnel as well.
Do you expect Marsch to be at Leeds long term?
Yes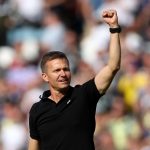 No