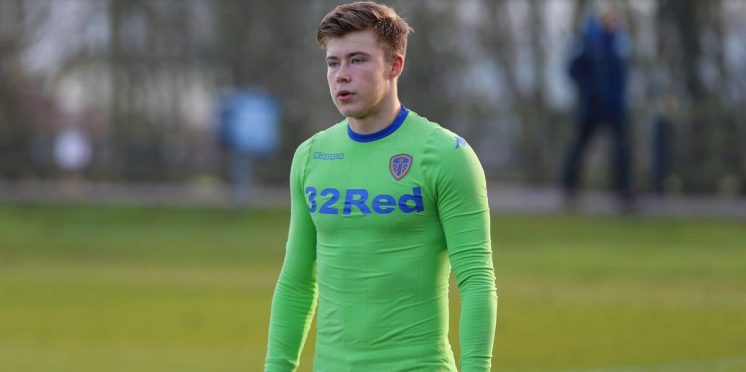 Leeds United's season so far: Player Ratings
It seems utterly ridiculous that there's another international break already for a set of friendlies disguised as serious football. However this break has actually come at a great time for Leeds, we'll have most of our injured players back for the trip to Blackburn. Would anybody actually be surprised if we gave them a proper good seeing to? With only one defeat in the league so far this season, these ratings may be a little high all round, but it feels good to be positive about Leeds.
Bailey Peacock Farrell – 6 – Leeds have only conceded nine goals so far this season so some credit has to go to BPF for that. It helps that his defence have been extremely solid on the whole. BPF has not been without mistakes so far, the Derby game was a bit of a horror show with the free kick that went straight through him. The first goal at Swansea springs to mind as well as both the Birmingham goals. This sounds like I'm just piling on him now, but he has been solid for large periods, especially when it comes to starting play from the back and coming for crosses. A top class keeper in this team though and we wouldn't concede very often, that's for sure.
Jamal Blackman – 5 – Only two appearances for him in the cup, none of the goals conceded were his fault but he didn't really show us that he's better than BPF either. I do feel for him though, I doubt he imagined he'd be sitting on the bench all season after starting for Sheffield United.
Into the defence…
Luke Ayling – 7 – At times he's been one of our best attacking players, popping up in the box more than you'd expect and he could have added a few goals with a bit more luck. In recent weeks his passing seems to have lost the plot but overall he's still the same man we all know and love. The best right-back in the league? Probably.
Gaetano Berardi – 8 – One of the surprises of the season before he got injured, he was playing so well that he kept Pontus Jansson out of the team. Playing at left-back last season, I thought we may have seen the end of Berardi at Leeds, thankfully that was not the case. His passing from the back was a large part of why Bielsa liked him at centre-back and we have missed it at times. With Ayling suspended for the Blackburn game, expect Berardi to play in his natural position for the first time in what feels like years.
Liam Cooper – 8 – He still has his dodgy moments, without a doubt, like the Brentford game. However, Cooper has been a massive step ahead this season of where he was for most of last season, whether that's been alongside Berardi or Jansson. As long as he doesn't over think things he's actually a very decent centre-back at this level who doesn't deserve half the abuse he gets. Great captain, too.
Pontus Jansson – 9 – Jansson had a slow start to the season after arriving for preseason late from the World Cup. However since he's been in the team he's like a different, more improved version of last year's Pontus. His passing sometimes seems a bit slack compared to that of Berardi but of late his all-round game has been wonderful to watch. The sort of form that will have Premier League clubs sniffing around in January.
Barry Douglas – 7 – Considering Leeds' troubles at left-back over the years, Douglas seems like a King. Having said that, we haven't seen the best of him yet. The Sheffield Wednesday and Hull games were prime examples of what to expect from him, although usually he'd have had two goals minimum as well. Once he finds his scoring boots again, we've got the best left-back in the league.
Jamie Shackleton – 6 – Although he's a natural midfielder, Shackleton filled in at right-back due to injuries and in the limited game time, he looked surprisingly good. There were a few occasions where he looked a little suspect defensively, but that's to be expected for someone of his age playing out of position, he looked brilliant going forward.
Tom Pearce – 5 – Only featured in the cup so far this season, Dallas playing over him against Brentford despite picking up an injury in training suggests Bielsa might not like what he sees at the minute. I thought Pearce was excellent last season but we're yet to see if he's progressed.
Conor Shaughnessy – 2 – Only the one appearance for Shaughnessy so far this season and it was our first defeat of the season. I don't think it's too harsh to say Shaughnessy probably isn't good enough to be around this squad.
Into the midfield…
Kalvin Phillips – 8 – If you discount the two games where he was subbed off early, he's probably been our most important player. Bielsa has admitted himself that we don't have anyone who can play that position as well as KP can. I've always rated Phillips but it's clear to see this season that he's taken another big step forward, when Leeds play well he's usually in the thick of it.
Mateusz Klich – 9 – The story of the season so far without a doubt, Klich has been absolutely brilliant after being completely written off by Christiansen and much of the fan base. He's not exactly known for being a goalscorer but he's scored some wonderful and important goals for us so far this season. He wouldn't even have started if Forshaw hadn't got injured, but that may have been a blessing in disguise.
Lewis Baker – 6 – Baker has looked decent every time he's been on the pitch, unfortunately for him that's not been very often due to the emergence of Klich and the return of Forshaw. I'm sure he'll have his part to play at some point with the rate we're picking up injuries.
Adam Forshaw – 5 – Injured for the majority of the season so far, he's failed to impress during his substitute appearances, he doesn't exactly strike me as a game changer from the bench but he seems to be Bielsa's first option, until our squad is healthier again. He's clearly a decent player but it seems unlikely he's going to take Klich's job any time soon.
Stuart Dallas – 4 – I think it's clear at this point that Dallas isn't a fullback, his minutes have been limited and I do feel for him sometimes when Alioski is having a offside party. It'd be good to see him get another go in his natural position at some point but with the return of Pablo, that seems unlikely.
Samuel Sáiz – 8 – Equally as important as Phillips is to the way Leeds play, it's magical to see him pick the ball up on the outside of our box, look away for a second and when you look up again he's on the edge of theirs. His final ball at times makes you want to scream with frustration, but if he could do that consistently he'd be at a top 6 Premier League club.
Into the attack…
Gjanni Alioski – 6 – Alioski has so much talent, the issue is he seems to lack brain cells. He leads the league in being offside, which is a nice accolade for him. When he's not playing well he absolutely stinks out the place, you can't fault his work rate though.
Pablo Hernandez – 9 – Hernandez doesn't seem to be ageing, we've missed him dearly since he's been injured. When Leeds need a spark, Pablo is usually there to provide it. There's no doubt that if he hadn't picked up an injury, we'd have won more games this season.
Jack Harrison – 6 – A late winner and a brilliant performance against Preston, unfortunately he's been lacking consistency. There's clear talent though and it's obvious why Guardiola wanted him to learn under Bielsa.
Tyler Roberts – 7 – Roberts looked bored when playing as a winger, as a striker though he's been a revelation. At Millwall on another day he could have scored 4, since then though he's looked our most likely goal source after the squad seemed to get a case of the awful finishing disease.
Patrick Bamford – 4 – Unfortunately for Bamford, both Roofe and injury have ruined his season so far, scoring only one goal in the cup. He did however set Pablo Hernandez up away at Swansea which was an important goal. He should be back around the New Year and that could be just the boost we need at that point.
Kemar Roofe – 9 – Can't say I expected Roofe to be this good as a lone striker, his runs in behind and finishing have both been excellent and Leeds have missed him massively since he's been out injured. If he can pick up where he left of against Blackburn, we could be in for a good afternoon.
Let us know what your ratings for the season so far would be!
---