Leeds United are willing to wait until the summer before attempting to sign Ben Brereton-Diaz on a free transfer from Blackburn Rovers.
That's according to a report from The Daily Mail, who also say that a number of Spanish clubs remain interested in the attacker.

With Leeds heavily linked with a number of strikers across the course of the summer transfer window, Brereton-Diaz is one they were credited with an interest in.
Indeed, it was reported that the Elland Road club made a late deadline day enquiry about the 23-year-old, but were put off a deal by Blackburn's asking.
However, it seems that may not rule them out of a move for Brereton-Diaz for good, with this latest update claiming that Leeds are willing to wait until next summer to make their move for the forward.
Brereton-Diaz's contract with Blackburn expires in the summer, meaning he will be able to leave the Championship club for free at that point, ensuring Leeds would not have to pay a fee for him.
Meanwhile, it is claimed that La Liga trio Villarreal, Valencia and Celta Vigo will scout Brereton-Diaz during Chile's upcoming friendly with Morocco.
The 23-year-old's contract situation does of course mean he would be able to sign a pre-contract agreement with any club outside England, from January.

This could be a sensible approach for Leeds to take over a move for Brereton-Diaz.
Given they were put off by his price tag in the summer, it may be a strange move for the Elland Road club to now spend a significant fee on him in January, when he is available for free just a few months later.
Admittedly, some may see waiting until then as a risk, given the option clubs from abroad have to secure a pre-contract agreement with him.
However, Brereton-Diaz himself ought to be aware of that Premier League interest in him, and could therefore hold off agreeing anything in January, in order to assess his full range of options in the summer, which could open the door for Leeds to make their move.
Should Leeds wait until the summer to move for Brereton-Diaz?
Yes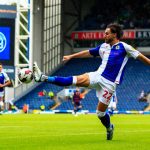 No