A decision on Jamie Shackleton's future is expected this week as Leeds United open up to the midfielder's exit.
Leeds appear to be working on outgoings at this moment in time, both high-profile and fringe.
Shackleton is included in that as the 22-year-old searches for more regular opportunities.

As per a report from the Yorkshire Evening Post, Shackleton is set to have his future decided this week ahead of Leeds' pre-season trip to Australia.
There are a number of clubs said to be interested in Shackleton.
One of those are Reading FC, with Football Insider noting their interest earlier in the week.
Shackleton has made 79 appearances for Leeds in his career, yet 51 of those have come from the bench.
Quiz: One question about every Leeds United first-team player – Can you score 100%?

It's important that Leeds get their house in order as soon as possible this summer.
Whilst they don't have a huge squad, they do have a lot of players on the fringe and they need to know where they are playing their football with the season creeping up.
In Shackleton's case, he's not one of those fringe players, but he's a first-team player that needs to go and get minutes elsewhere.
He hasn't been able to play as much football as he would've liked and a move into the Championship, with Reading or whoever else, offers him that.
From a Leeds point of view, he should be one of the priorities when it comes to an exit, sorting him the best move possible to help him further his career.
Should Leeds let Shackleton leave this summer?
Yes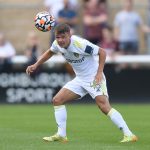 No