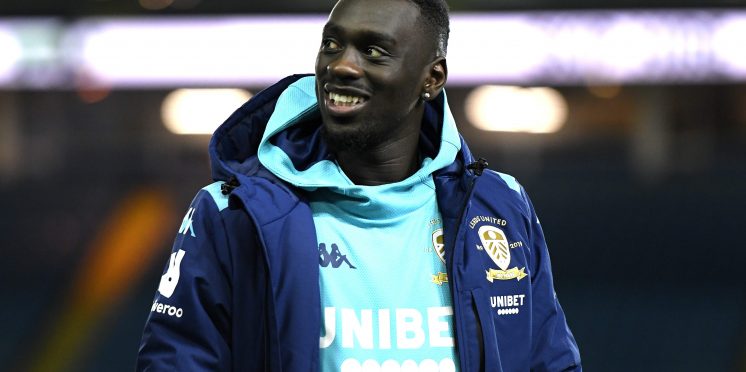 Leeds United in the firing line as player dispute rages on
RB Leipzig sporting director Markus Krosche has hinted that the club are close to taking legal action against Leeds United over the situation surrounding Jean-Kevin Augustin.
The dispute around Augustin has been lingering since the back-end of last season, and it now seems as though it could be coming to a head sooner rather than later, with Krosche reiterating that his club will not be taking things lightly with regards to the striker.

Augustin of course spent an infamous loan spell at Leeds from Leipzig during the second-half of last season, with the striker making just three substitute appearances for the Whites.
Despite that, Leeds were able to secure promotion to the Premier League as Championship title winners, and while that is something no one at the club was going to turn down, it has opened up a can of worms with regards to Augustin, whose loan deal wasn't even extended to included the rescheduled end to the season.
Reports emerged over the summer revealing that Leeds had an obligation to buy Augustin as part of his loan deal if they were promoted to the Premier League, worth around 21million euros.
Obviously, that it something that has not yet happened, but it seems as though Leipzig are determined to get their money from that clause, even if Augustin will not be returning to Elland Road this summer.
Speaking about the Augustin situation, Krosche was quoted by Suedeutsche as saying:
The status is unchanged from the last few weeks, but the legal situation is clear.

When the contracts were signed back then, everyone was aware that the contracts are clear. I hope for a quick solution, because there is also a player and a person behind it.
Indeed, it seems Krosche is not exactly impressed with Leeds' transfer business this summer, and is now preparing for a legal battle with the club, as he went on to add:
Why Leeds acts the way they act, I can hardly judge. It is now our lawyers' turn.

I hope our lawyers will solve the problem in the coming days. This is also about a human being. JK is a great guy. I'm sorry for him.
As things stand, Augustin, who has yet to make an appearance for Leipzig since his return to the club, has two years remaining on his current contract with the Bundesliga side, securing his future in Germany until the end of the 2021/22 season.

Considering his troubles last season, it seems inevitable that Augustin will not be back at Leeds this season, regardless of what happens with any potential legal battle here.
Indeed, with Rodrigo Moreno having now made the move to Elland Road to provide competition for Patrick Bamford up front, there is no need for Leeds to bring Augustin back to Yorkshire.
However, while that is clear, the situation around this clause is less so, with both clubs having cases to make.
You can understand Leeds not wanting to pay this clause, given that Augustin's influence on their promotion was minimal to say the least, although Leipzig will counter that by saying that the striker's contribution to Bielsa's side was never part of the agreement.
As a result, it would be no surprise to see this particular dispute end up in the courts, and without going over the terms of the deal in minute detail, it is hard to know which way this might be viewed, meaning it could be some time before we get a decision here, and that is something Leeds may want hanging over their heads in what remains of the transfer window, given the blow to their funds losing any case here would hit them with.
---