Marcelo Bielsa left Leeds United under something of a dark cloud back in February, finding himself sacked by the club in the middle of a relegation scrap after three-and-a-half years of unforgettable memories.
Leeds fans will always look back fondly on Bielsa and what he delivered the city during his time in West Yorkshire.
The South American ended a 16-year stay in the EFL, playing a swashbuckling style of football that Elland Road revelled in.
After play-off heartbreak in 2018/19, Bielsa led Leeds to the Championship title in the summer of 2020, guiding the club through the pandemic as well. On Leeds' return to the Premier League, they finished ninth and were one of the most entertaining sides in the division to watch.
Things declined badly last season and Bielsa left the club following a heavy defeat to Tottenham in February 2022.
Whilst Jesse Marsch would go on and keep Leeds in the Premier League, there was still sadness across the fanbase at how things had ended for Bielsa. That was the case for the regular punter but also Leeds' more high-profile fans, like the city's boxing hero, Josh Warrington.
"I was one of them alongside many, many Leeds fans that were devastated when Marcelo Bielsa left," Warrington stated to our colleagues at GiveMeSport recently.
"He's a god in Leeds, there are murals of him all over the city. He got us back to the Premier League. So many managers have come and tried but never got us over the line."
Quiz: Did these 20 EFL sides ever manage to beat Marcelo Bielsa's Leeds United?
One thing that stood out during Bielsa's time at Leeds was the style of football. It was brave and, no matter who they faced, they'd go toe-to-toe with them and never park the bus. That, of course, left them open to heavy scorelines: 6-2 and 5-1 at Manchester United, 4-3 and 6-0 at Liverpool, 7-0 at Manchester City.
Amongst that, though, there was a 10-man win at City, a hammering of Tottenham at Elland Road and an impressive 3-2 win at West Ham.
In the end, those heavier defeats contributed to Leeds' board losing faith in Bielsa. However, there was this feeling that this widely despised club had become like a second team for many, given how they entertained.
Warrington weighed in on that theory, continuing: "We became everyone's second team as well. I don't think we like that as Leeds fans, we like it when everyone hates us, but we were playing some very entertaining football.
"I've been going down there for a long, long time and remember the dire times in League One when we were struggling to have a shot on goal. Now we are playing the likes of Liverpool and Chelsea.
"We'd concede three or four but score three or four ourselves, although conceding seven was a bit embarrassing. We were doing all right, playing good football."
And, that style of football is ultimately what Bielsa will be remembered for. Leeds fans forgave those hammerings away from home because the risk they played with was worth the reward in what was delivered when it was good.
For generations to come that dark cloud Bielsa left under will mean nothing. Instead, it will be his brave, attacking side that will be talked about as Leeds' best since the Don Revie era.
Should Marsch go?
Marsch in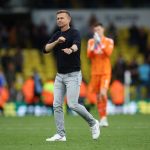 Marsch out