Former Leeds United defender Jonathan Woodgate still believes it was a mistake to part ways with Marcelo Bielsa in favour of Jesse Marsch.
The Whites have two games left in their Premier League season and, unless something changes, are going to be making their way back to the Championship.
They need to better Burnley's points tally in the final few games to stay in the league, and this situation has got plenty discussing the previous decision to sack Marcelo Bielsa.

Back in February, Leeds came out of the month having lost three in a week to Manchester United, Liverpool, and Tottenham, with an aggregate scoreline of 14-2 – seeing Bielsa lose his job.
In his place is Marsch, who managed to string together some good results in March and April before a daunting set of games saw Leeds drop into the bottom three.
With two games to go, will Leeds stay up?
Yes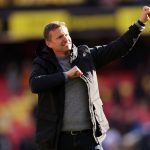 No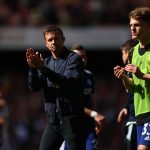 Fans have been eager to stake their claims over whether Bielsa would have been able to get anything more from these games, or even manage better performances to see the side safe.
Amongst those is Jonathan Woodgate, who spoke to Britishgambler.co.uk, and made this claim:
"I would have kept Bielsa on, as I think he would have turned it round. I know they'd been on a bad run, particularly at home losing a few, but he would have turned it around.
"I was a big fan of Marcelo Bielsa, and what he did to the Leeds team and the players. He improved the club and the players, but I just think Leeds wanted something fresh.
"Most of the season they've had no Cooper, Phillips and Bamford – the spine of the team. Cooper is injured now, Stuart Dallas, Bamford.
"Without three of the most reliable players aside from Phillips and Raphina, it's going to be really difficult for Leeds, but I just hope they stay up. I really do because they've a massive football club. Maybe Leeds could have brought in a big name striker in the January transfer window."

It's all with the benefit of hindsight, but we were sinking like a stone under Bielsa in fairness. Shipping goals, not only to the best teams but everyone else too.
I do think that Bielsa could have had a similar chance to keep us up, and deserved that opportunity to finish what he started, but there's good justification for both sides of the argument.
One thing that is clear is that the lack of transfer investment has killed this team, whether the final say from Bielsa himself or those higher up, and we're paying the price.
Woodgate is right to say that a new striker could have saved Bielsa from such poor results and the eventual sacking.
The fact we didn't go for one is baffling, knowing how we struggle for goals when Bamford is taken out of the equation.