It seems that Mateo Joseph is starting to catch plenty of attention at Leeds United following his recent performances for the club's youth team.
That's after first-team head coach Jesse Marsch paid tribute to the 18-year-old for his recent performances for the club's Under 21s side.

Having come through the youth ranks at Espanyol in his native Spain, Joseph completed a move to Leeds back in January.
Since then, the teenager has yet to make a first-team appearance for Leeds, although he has impressed for the club's Under 21s at the start of the current campaign.
The striker has scored five goals in just two games at that level this season, which includes finding the net four times in a 5-2 win over Derby.
Now it seems as though that is something that has not gone unnoticed further up the ranks at the club, based on these comments from Marsch.
Speaking about Joseph's recent goalscoring for the Under 21s, Marsch told Leeds Live: "I think Mateo has developed a lot since I've been here. He understands pressing and he understands how to play with intensity.
"He also has quality and a goal scoring knack. So I think because of his intelligence, because of his quality, and because of his adaptation, he has potential to be a really important player here.
"The four-goal match obviously is a big statement. I think the 21s are built to have a good season and I think Skubs is doing a really good job with them.
"I think he's been eager to learn from what we're trying to achieve here and I think the work and the symmetry of us and what we've done together has ensured we've had a really good start."

This does have to be seen as an exciting prospect for Leeds United.
Admittedly, it would be a big step up for Joseph if he was to make the move into the first-team now, and it has been suggested that Marsch is not currently planning on doing that.
But with the club currently short on first-team strikers, it is at least encouraging to know that in Joseph, they do have one at least one player in their youth ranks who is showing the potential to step up to that level in the future.
As a result, you get the feeling there will be more than just Marsch keeping a keen on eye on the progress of the 18-year-old over the course of the next few months.
Will Joseph make a senior appearance for Leeds this season?
Yes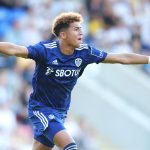 No