Leeds United's Max Wöber impressed on his full league debut as his side drew 0-0 with Brentford at Elland Road on Sunday afternoon.
The Austrian international completed the full game as a centre-back and kept a crucial clean sheet. However, the result leaves Leeds in 15th place in the table and means they have won just three of their last 19 games in all competitions, keeping pressure firmly on the side and head coach Jesse Marsch.
The Whites are three points off the bottom of the table and one point above the relegation zone in the league, but Marsch was pleased with the efforts of his defensive unit and Wöber stood out in particular.

Marsch was full of praise for the man he has managed before during their time in Austria with Red Bull Salzburg together, he said: "Max (Wöber) has fit in really well. I know him from the past and he's a very intelligent player and I think he's a good communicator, which has been really important for us to really be on top of our tactical model.
"Especially when we have the ball and he's done a really good job with that."
Marsch added clarity to what he meant by "when we have the ball" and continued to heap the praise on when he also claimed that the 24-year-old is the "best passing centre-back" he's worked with as a manager, as per Phil Hay.
The big updated Max Wöber quiz – How well do you know Leeds United's January recruit?

It may not be hyperbolic to say Leeds' two best centre-backs are both left footed and both played in the game on Sunday.
It was a surprise to see Wöber start at centre-back and Pascal Struijk at left-back given the club's stance on calling him their new left-back, but he impressed hugely in the more familiar role to him.
The only issue this has raised is that Leeds may still be in need of a more natural and specialist left-back to help out with Struijk and his lack of pace and athleticism in that position.
Is Maximilian Wöber a good signing?
Yes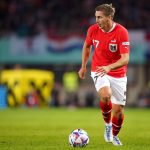 No