Leeds United drew 0-0 with Brentford at Elland Road on Sunday afternoon.
The result means Leeds have won three of the last 19 games in all competitions, keeping the pressure firmly on Leeds' head coach Jesse Marsch.
The Whites are three points off the bottom of the table and one point above the relegation zone sat in 15th place in the league and play Nottingham Forest, Manchester United (twice), Everton, and Southampton in their next five league games.
The big updated Jesse Marsch quiz – Can Leeds United fans score 20/20?

Marsch appears unconcerned, though. Earlier this week he claimed he hates being results based as performances are usually more important to him, he said: "For me, we need another complete performance. We need conviction and we need a win. I hate being results based but that's where we are."
Post-match against Brentford, he doubled down on the statement which had many Leeds fans scratching their heads, he added: "The group is disappointed. They felt they played well and wanted to be rewarded with the points; but for me, I've been really focussing on performances, tactical clarity, individual confidence – and for me it's clear that we're moving in the right direction."

A truly bewildering comment to double down on given Leeds' current predicament.
The most important thing are points right now and sides like Brentford at home are exactly the sorts of fixtures Leeds need to capitalise on with wins on the board.
Most fans are accepting of a transitional period under a new manager where they are needing to trust a process in order to understand a different managers' playing style and structure, but Leeds are 11 months into Marsch's reign and are still putting in mixed performances with largely poor results.
In an ideal world, the football wouldn't be purely results focused; but this isn't an ideal world and, unfortunately for Marsch, it absolutely has to be a results business in Leeds' position in the table.
Should Marsch be under pressure?
Yes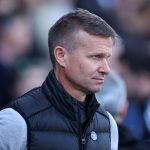 No