Jesse Marsch hasn't committed to using Patrick Bamford in Leeds United's clash with Brighton and Hove Albion on Sunday afternoon.
Leeds are entering must-win territory against Brighton, as they sit 18th in the Premier League and can be all-but relegated come Sunday night if results don't fall in their favour.
Bamford, meanwhile, is working his way back from a foot injury, which is the latest in a long line of setbacks for the striker.

There's been a return to training for Bamford but Leeds head coach, Marsch, is playing the waiting game with the striker and not committing to putting him in contention on Sunday.
He explained, via the Yorkshire Evening Post, that it is probably a case of wait and see at this stage.
"It's a bit too early to see where he's at, we'll evaluate it over the next few days.

"I don't want to say too much about Patrick right now, let's just see. I want to give him the opportunity to continue to progress and then make a decision on his involvement in each match. Everybody is working together, our medical team, Patrick, us as a coaching staff to evaluate where he's at."
The 28-year-old has had ankle, hamstring and foot injuries this season, which have limited him to only nine Premier League appearances.
His last outing was in the 3-2 win over Wolves at Molineux.
Should Leeds risk Bamford between now and the end of the season?
Yes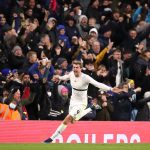 No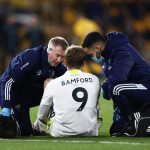 This is a big decision on Bamford and you could completely understand if Marsch risks him for this fixture, at least off the bench.
Leeds are getting desperate now and need a bright light to come in to lift them.
Bamford did that earlier in Marsch's tenure against Norwich and Wolves, picking up two crucial wins in the process.
Leeds have a duty of care to look after Bamford and make sure he's not doing himself (anymore) long-term harm, but they also need to test the waters to see if he's willing to step up and play.
Their top-flight status might well be resting on that very conversation.
Quiz: Has Patrick Bamford scored more or less Leeds United goals than these 15 former players?