Jack Harrison almost left Leeds United on deadline day in the January transfer window, with Leicester City keen on the winger up until the last hour.
Harrison had been linked with a move to Leicester by Rob Dorsett of Sky Sports, he said: "Leicester interested in Leeds United's Jack Harrison as they search for a winger. Leeds don't want to sell, especially to a relegation rival."
The speculation surrounded Harrison all the way up to the eleventh hour of deadline day, with Leicester refusing to give up on the 26-year-old and a £20m bid said to have been made last week, per a report from David Ornstein of The Athletic.
The big updated Jack Harrison quiz – Can Leeds United fans score 20/20?

Harrison feels somewhat betrayed by the club since his move failed to materialise. He was not angling for a move per the report from Phil Hay and Rob Tanner of The Athletic, they said: "Harrison was not agitating for a transfer or actively stating a desire to depart."
However, Leeds All Over sources have confirmed to us that he was left feeling "hurt and frustrated" that Leeds almost forced him out when his desire was always to stay. As Hay outlined in his report, Harrison had "journeyed south in case a deal was struck at the death" and Leicester had "got a medical going" only for the plug to be pulled on the move late on.
The club are set to hold talks with Harrison this month over a new deal, Hay has described Harrison as open to staying beyond his current deal, he said: "Harrison is open to accepting improved terms and staying beyond his present contract."
Despite this, and that he has been described as happy at Elland Road presently, it is unclear currently if Leeds' indecisiveness has changed his stance on a new deal. There is a stronger chance that his deadline day treatment makes a new contract more difficult to agree, which will then force the club's hand into a sale this summer when the 26-year-old is in the final 12 months of his deal.

The situation is frustrating for Leeds fans as much as it is for Harrison,
Hopefully it is something he can get over and brush under the carpet. The treatment of him has been poor from the club, but they will simply call it business at the end of the day.
The club risk losing him for less than his market value this summer with his contract running down, but they can hopefully resolve that issue in February when they enter talks. He is rarely ever injured and worth keeping around, or at the very least signing a new contract to protect the club's asset and his valuation.
Are you confident Harrison signs a new Leeds contract?
Yes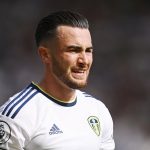 No