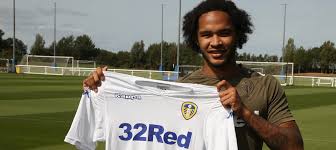 Izzy Brown: Izzy the Answer?
Leeds fans will be delighted by the news that Izzy Brown played a full 90 minutes of football for the Leeds United U23s against Crewe today.
Brown, who typically plays as an attacking midfielder (somewhat similar to Samu Saiz), also scored both of the U23s goals as they secured a 2-0 win.
Izzy Brown has been recovering from a torn ACL that he suffered well over a year ago and has since had a staggered return from injury with occasional minutes for the U23 side.
The highlight of the still young 22 year old's career so far was probably his involvement in the Huddersfield side that won promotion, he became a key part of their success and played 98 minutes in their Play Off Final victory. Overall he made 15 appearances, scoring 4 goals. The season after he earned himself a loan to Premier League Brighton and had appeared 15 times for them before he suffered his cruciate ligament injury.
What purpose can he serve to Leeds then?
It is no secret that Leeds are in the hunt for another attacking midfielder that can perhaps be useful in wide positions too, with Swansea's Daniel James the latest to be linked with an Elland Road move. In recent loan spells, Brown has proven himself to be an intelligent midfielder with good movement on and off the ball. He should also provide Leeds some extra support in the air, as he registers just shy of 6ft. Noel Whelan suggested during his loan at Huddersfield that Brown is a great impact player, who can come on and make an impact immediately.
This is a similar trait set to Samu Saiz, who Leeds are seeking to find the replacement for this window. It is clear he belongs at a top Championship club and many managers would certainly see him as an asset.
Brown sounds like the sort of player who can add value to the Leeds attack and maybe he will come to fruition just as legs start to become jaded late on in the season, negating any 'Bielsa burnout' effect that we hear banded around without much prior research.
The major question that remains, however, is whether he will be able to find the sharpness required for an intense title push after such a sustained period on the sidelines?
---