Ben Foster has ripped into VAR following Leeds United's 4-3 defeat to Tottenham at the weekend.
Leeds led on three separate occasions against Spurs but found themselves on the losing side, as Jesse Marsch's men conceded a 3-2 lead late on.
There can be no arguing the events in the second-half, yet Harry Kane's 25th minute goal in the game is a real sore point for Leeds' supporters.
Illan Meslier was bundled into the back of his own net by Clement Lenglet and Richarlison, with his attempted clearance finding Kane, who had a simple finish. Leeds expected VAR to intervene, which they didn't, allowing the goal to controversially stand.

This has been a hot topic of conversation across multiple platforms since Saturday, with many agreeing that Leeds have been on the wrong side of the decision.
Foster, who was talking about the incident on his YouTube channel this week, laid into VAR.
"It's a disgrace, once again VAR in question all over the Premier League this weekend.

"It's a corner to Tottenham, whipped in and Meslier going to punch it, he's got two Tottenham players literally just shoulder jumping him. They've jumped with him, but they've shoulder jumped him to the point where he's fallen into the back of the goal. He gets a good fist on it to be fair, but the ball drops down back into Harry Kane and he puts the ball into the back of the net.

"This is why I don't want VAR. If the referee at that point makes a decision that he hasn't seen it, you can live with it, but when somebody has actually looked over the video on VAR and has still not given it as a foul, what's the point?"
The big updated Illan Meslier quiz – Can Leeds United fans score 20/20?

The argument about VAR is right.
If the referee makes that decision without seeing a replay, you'd say fair enough, it's human error.
However, for an official to be sat on the other side of the VAR monitor, watching multiple angles of Lenglet clatter into Meslier before Kane converts, and still give nothing is a joke.
Leeds are right to feel let down by the officials and the technology.
Are you worried about relegation?
Yes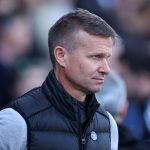 No