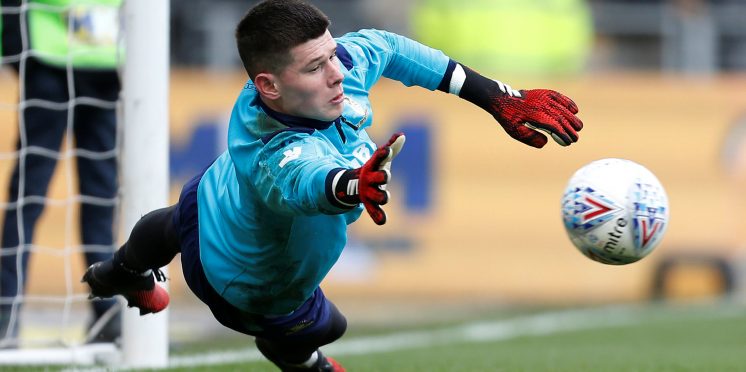 Is Ilan Meslier Premier League Ready? The Stats.
One of the first announcements that came in the wake of Leeds United's Glorious Promotion was the completion of Ilan Meslier's transfer to Leeds.
Previously on loan from French outfit Lorient, Meslier signed for Leeds permanently on a fee believed to be around the £5 million mark.
Meslier, himself, was probably not anticipating such a significant role in Leeds' title charge, but Kiko Casilla's ban for racially abusing Jonathan Leko meant that Leeds had no choice but to start the 20 year old.
Leeds fans had previously enjoyed a taste of the Frenchmen in the FA Cup. He was entrusted with the gloves away at Arsenal and was warmly received. Though Leeds lost, Meslier was praised for his clinical distribution and control of his own area, showing command against some of the world's most senior players.
But how did Meslier get on in his 10 Championship games? Let's look at his stats in comparison to Kiko Casilla's 36 games.
On the very face of it, Meslier conceded 0.4 goals p/game and Casilla conceded 0.9 p/game. There are obviously other factors that are important here but it is somewhat telling considering the keeper's role in defensive structure.
Both keepers were asked to make 2 saves per game on average.
On average, Meslier amassed 41.6 touches per game, whereas Casilla had 38.8
Similarly, Meslier completed 22.2 accurate passes per game, with 21.1 in his own half. Comparitively, Kiko completed 23.5 with 21.9 in his own half. This seems like a fairly neglible difference.
The one crucial, and alarming stat, comes where Ilan Meslier has 0 but Kiko Casilla has 5. The stat? Errors leading to goal.
Altogether, the stats are only one part of the story and Marcelo Bielsa will undoubtedly be making far more careful analysis of the keepers' respective performances. However, the stats also signal a much more assured defensive performance when Ilan Meslier is between the sticks.
Another factor that must be asked is whether Kiko Casilla represents value for money on his wages. When he arrived at Elland Road from Real Madrid he became one of the highest earners. With finances expected to be tight, could his departure open up some wage flexibility for Leeds' recruitment?
There is also the question of ethics and morality, with Leeds firmly stating they have a zero tolerance approach towards racism in light of the Black Lives Matter movement. Does continuing to employ Kiko Casilla match this commitment?
---