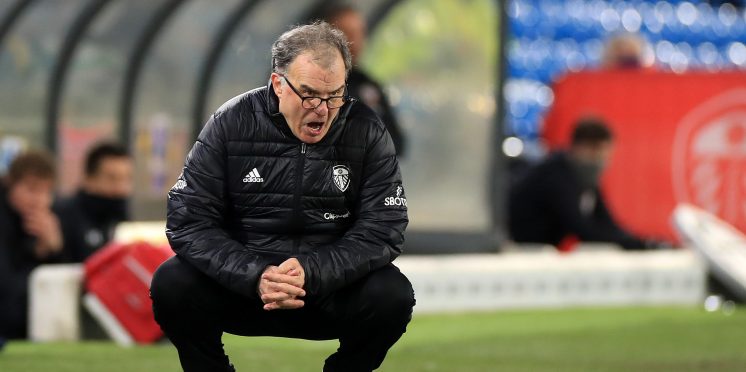 'In the middle of a war' – Player appears to send warning to Leeds United with Marcelo Bielsa revelation
Former Marseille player Doria has issued an apparent warning to Leeds United's board about the reaction they will get if they sign a player against the wishes of manager Marcelo Bielsa.
Doria joined Marseille during the 2014 summer transfer window, when Bielsa was in charge of the Ligue 1 side, a deal that the Argentine seemingly did not want to happen, prompting a strong response from the now-Leeds boss.

It was announced on the final day of the 2014 summer transfer window that Marseille had completed the signing of Doria, who joined from Botafogo in his native Brazil on a five-year deal.
However, it seems that was not a signing that Bielsa wanted to make, with the Argentine clearly making his feelings known to the Marseille board.
Recounting Bielsa's reaction to his arrival, Doria told Mexican outlet SoyFutbol:  "I arrived on the last day of the transfer window. Bielsa did not count on me and got angry with the president because they signed me without consulting him. I was in the middle of a war between them."
Indeed, it seems Bielsa did frustration with the signing also affected the Argentine's treatment of the defender, with Doria going on to add: "Bielsa wouldn't play me to prove to him [Vincent Labrune] that he didn't need me.
"Sometimes he would name me on the bench, but I didn't care and the next day I would travel four hours on the road to play with the reserves."
Doria would not play a single game for Marseille under Bielsa, and although the Argentine left the club at the end of that season, the defender would make just 33 first-team appearances for the French club before leaving to join Mexican outfit Santos Laguna in the summer of 2018.

This does seem like a pretty clear message to Leeds not to go against Bielsa's wishes in the transfer market.
In fairness, that is something that the club ought to be aware of by now, given Bielsa has never been one to hide his feelings, even when it comes to the actions of his own club.
Even so, given he has now been at Leeds longer than any other club that he has managed, it does seem as though Bielsa and Leeds have developed a system that works well for them when it comes and transfers, and you imagine many other issues.
As a result, while this is a reminder for Leeds of how Bielsa can respond when things aren't done to his liking, it doesn't really seem like that is something that should be an issue at Elland Road any time soon.
---