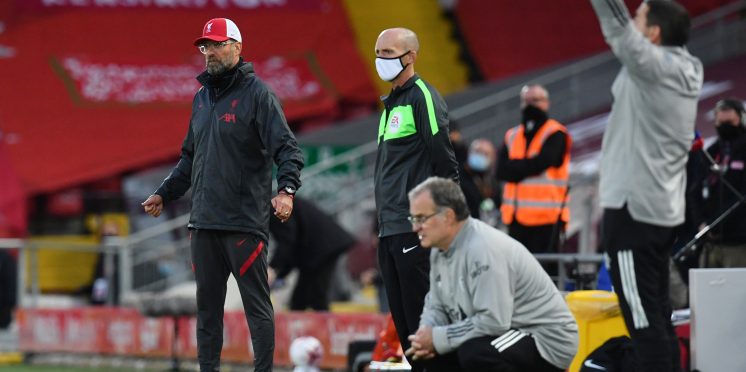 'I would never' – Marcelo Bielsa comments on topic to offer differing Leeds United view on Liverpool stance
The Premier League calendar has been condensed this season and some sides are feeling the pressure, but Leeds United and Marcelo Bielsa are facing the task admirably.
With promotion to the Premier League has come an even greater chance for Leeds' squad to be thrust into the international scene, even though a large chunk were established in their national sides.
Kalvin Phillips has earned a call-up for England, Rodrigo and Diego Llorente have arrived as Spain regulars and Robin Koch coming as a new addition to the German national side.
While it's overwhelmingly positive to have players of this standard, having them whisked away multiple times in a season has its drawbacks.

We've seen with Diego Llorente that international duty can put players at more risk of injury.
It's taken him until this last week to notch up two consecutive Leeds starts, thanks to an injury he picked up in October with Spain.
We're not the only team dealing with these injuries, though, and not nearly the most vocal about it, as Jurgen Klopp has issued his concerns over players quarantining after jetting off to represent their countries.
The Liverpool boss has been struck with an unfortunate number of injuries this season, but not something unique, as Leeds, Crystal Palace, among others face similar crises.
Marcelo Bielsa was asked about his thoughts on the matter during his pre-West Ham press conference and had this to say: "This is a decision that the authorities need to make, those who establish the rules." Bielsa said, as quoted by the Leeds Live.
"This is a decision the authorities need to make. Those who establish rules.
"For the players to participate for their national teams it's an honour, but the situation with the regulations is altered because they extend the day of return by 10 days.
"Those who take the decision to make the rules, they can't look the other way and ignore this situation. It's they who have to say how we resolve this matter.
"I would never tell a player not to respond to a calling from his national team. At the same time, I understand what Klopp is saying.
"The rules change and the period of time the players are away from the club increase by 100 per cent. Situation needs to be resolved by those who make the rules, can't say those who allow their players to go do, and those who don't, don't."

It's a tricky situation we find ourselves in and clubs are clearly addressing the issues they face in wildly contrasting manners.
We haven't heard a peep out of Bielsa when it comes to the injuries we've faced while it has dominated Klopp's pre and post-match reaction to games this season.
The country is currently in a situation where allowing players to fly abroad for seemingly meaningless fixtures seems baffling, and Klopp is completely right to question that.
However, it's hugely unfair for just Liverpool to be given a pass on something that isn't their situation to govern, as Bielsa outlines.
---