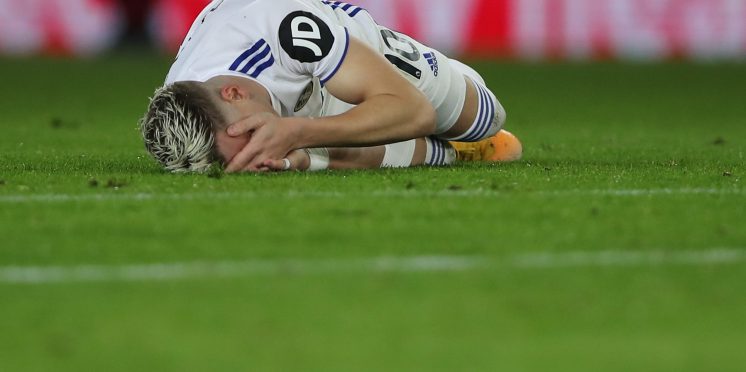 'Have a word' – BBC pundit tears into Leeds United individual with passionate rant
Garth Crooks has claimed that Leeds United left-back, Gjanni Alioski, needs to have a word with himself over his reaction to Nicolas Pepe's headbutt.
Leeds were held to a goalless draw by Arsenal on Sunday afternoon, with the Gunners hanging on despite going down to 10-men on 51 minutes.
That came after Pepe directed his head towards Alioski, who was left on the ground holding his face.
Those theatrics from the Macedonian haven't sat well with some, though.

After an innocuous coming together, Pepe opted to lean his head into Alioski in the 51st minute of Sunday's clash at Elland Road.
The left-back fell to the ground holding his face, with a swift VAR check, rightly, resulting in a Pepe red card.
Arsenal's winger has been in the firing line for his actions, but Alioski isn't out of the woods with some pundits for his reaction.
Crooks was busy praising the toughness of Arsenal centre-back, Gabriel, in his BBC Team of the Week, before losing track and ripping into Alioski.
What a contrast to see Ezgjan Alioski go down as though he had been hit by a train in order to get Nicolas Pepe sent off after the slightest contact. Pepe was stupid enough to fall for Alioski's earlier provocation, of course, but to go down like that – really? The Leeds defender needs to have a word with himself.

Whether you agree with it or not, this is part of modern football and we can't get away from that.
Had Alioski stood his ground, the chances are that Pepe would have stayed on the field.
Put the shoe on the other foot; had Alioski leaned his head into Pepe, the winger would have, of course, gone to ground to get the Leeds man sent-off. Arsenal were under the cosh and you do anything to gain an advantage, don't you?
I can't sit here and say it's completely right for Alioski to go down holding his face, but I can accept it is part of the modern game.
He isn't the first to do it and he certainly won't be the last.
---