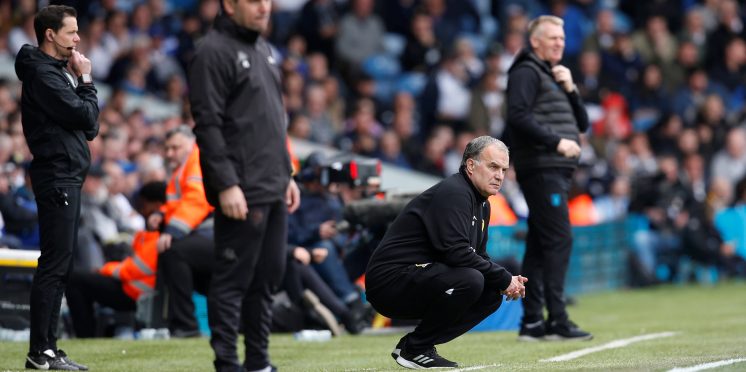 'For sure' – Dean Smith puts his neck on the line with Leeds United prediction ahead of Aston Villa meeting
Leeds United face Aston Villa on Friday night at Villa Park with both sides already turning heads for their stellar starts to the season, and Dean Smith believes Leeds have nothing to fear this season.
Smith's men staved off relegation by the skin of their teeth last season thanks to a helping hand from goal-line technology against Sheffield United, but have put that behind them to become a real force to be reckoned with this term.
So far, they've blown away Liverpool and Fulham on their way to four straight wins since the start of the season, meaning that a win on Friday night against Leeds United would lift them to the top of the table over Everton.
Meanwhile, Leeds' start to the season has been somewhat suppressed by a disappointing defeat at home to Wolves on Monday night.

Five games in and both Leeds and Villa are sitting in positions much higher than they would have expected before the campaign kicked off in mid-September.
They face each other on Friday night for the first time since Marcelo Bielsa's first season, where both clashes against the Villans caused huge drama for different reasons.
The last face-off resulted in Leeds being awarded the FIFA Fair Play Award for allowing Villa to score a controversial walk-in goal at Elland Road, and tension could be high as the two come to blows again.
Speaking to the media ahead of Friday, Dean Smith has commented on Leeds' start to the season and how they stand against relegation for the remainder of the term. He stated (via the club's official website): "I've seen all five of their games so far and they're very competitive.
"They'll win more games than they lose this season – that's for sure.
"I don't see them being in a relegation scrap at the end of the season.
"They're the fittest team in the league and every team that has played against them so far has actually got their top numbers during that game.
"There's a certain work ethic there but there's also a lot of quality there as well."

You see a lot of fans commenting on social media claiming that Leeds are in for a scrap at the bottom end of the table, but every manager and level-headed pundit has said quite the opposite.
Despite Smith's glowing review of us so far, it means nothing if those performances aren't converted into points, like the first half against Wolves.
We're in for a serious battle against Villa on Friday with how they've started but there's nothing to indicate that we can't get a result there.
Smith hasn't gained many admirers from our fanbase due to his touchline antics during the 1-1 draw in 2019, but it's good to see that he can see past this history and judge Leeds objectively, unlike a certain Gabriel Agbonlahor.
---