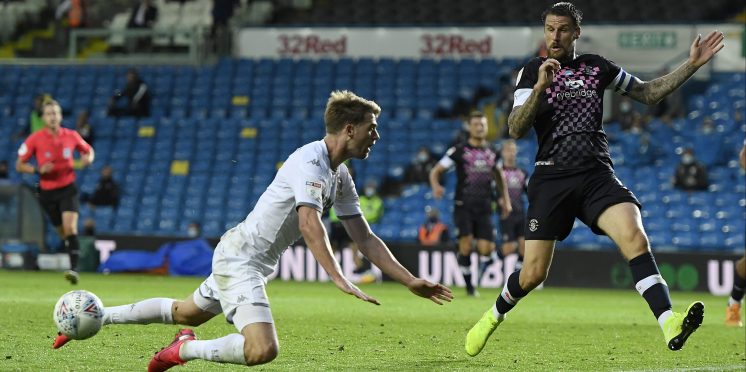 'Doesn't seem interested' – These Leeds fans assess player's performance in Luton draw
Leeds United's push for promotion hit something of a stumbling block again on Tuesday night, as they were held to a 1-1 draw by relegation-threatened Luton Town at Elland Road.
After something of an uneventful first half, it was the visitors who took the lead not long after half time, Harry Cornick curling in an impressive effort to put the pressure on Leeds.
Bielsa's side responded however, and equalised through Stuart Dallas just past the hour mark.
It was Leeds who would then push for a winner late in the game, only to miss several opportunities to do so, with Helder Costa and Patrick Bamford both missing big chances to do just that.
Taking to Twitter to reflect on the game, the form of Bamford was once again a big talking point amongst Leeds fans, with some defending the striker for his efforts, and others left completely frustrated at their first-choice spurning yet another big chance, misjudging the flight of a Jack Harrison cross while unmarked just a few yards out from the Luton goal.
Here, we take a look at what some of those supporters had to say about Bamford's latest performance.
Twitter: Time to drop costa and Bamford to bench alioski in for costa Douglas for Dallas and Tyler up top they've had enough chances (@stephenfitzpa15)
Twitter: @LUFC Been backing bamford all season to come good but I've realised it's never gonna happen, the simple chance las… https://t.co/Isi6UQS34z (@jeff3947)
Twitter: This is appalling
Btw bamford only had 3 shots this game so there is clearly an agenda somehow he gets all the hat… https://t.co/bt5xjDEIMd (@caleb23lufc)
Twitter: If your a Bamford hater your not Leeds the guy gives his all on the pitch get behind the team for the last six game… https://t.co/DoCDyUzfWy (@LeeWhit09626441)
Twitter: Don't think anybody can stand and protect bamford anymore, one or two times and you can give him some slack, but it… https://t.co/J0oIeyoqjD (@scottdriscoll2)
Twitter: "We WoUlD hAvE bEeN pRoMoTeD bY nOw iF wE PaId RoOfE wHaT hE wAnTeD"

18/19 Season:

Roofe contributed to a goal ev… https://t.co/4UZDELbmHe (@19MOT19)
Twitter: How can people defend Bamford after that miss…. his conversation rate for big chance is woeful (@KyleLukeColley1)
Twitter: To be fair to Pat Bamford, that's only the 8382664th time he's missed the sitter of the century, clearly just not his day (@sophielevin11)
Twitter: At least we now know for certain that the pressure from fans "getting on his back" at Elland Road isn't to blame fo… https://t.co/xCTzOHLY2y (@AndrewHaigh)
Twitter: Just a reminder that for Helder Costa and Patrick Bamford we paid in total £24 million pounds…. that is £24 million pounds (@aidenlufc)
---