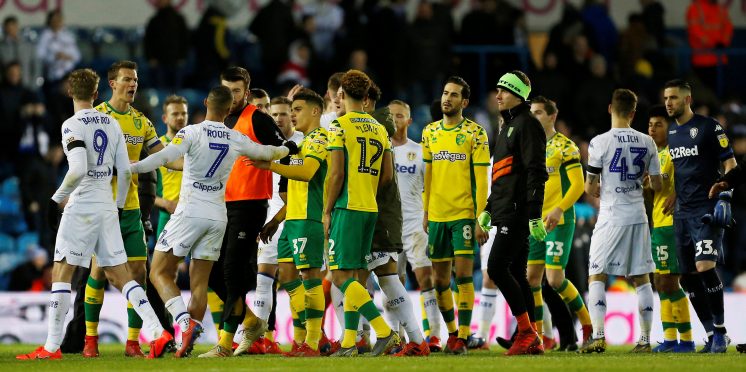 Daniel Farke shuts down Leeds United comparison surrounding Championship title-race
Norwich City manager Daniel Farke has moved to distance his side from comparison's to Leeds United's 2019/20 campaign.
Farke is no stranger to success in the Championship, and Leeds have first-hand experience of his expertise in the division.
Marcelo Bielsa's first season ended in heartbreak as the Canaries raced to the league title while the Whites had to settle for a place in the play-offs.
The following season, fortunes flipped as Norwich slumped to relegation while Leeds stormed the Championship.

Now, Leeds find themselves miles ahead of Norwich's points tally from last term, and Farke's side look like bouncing back without trouble.
A lot was made of Leeds' character as the Championship run-in intensified, but Bielsa's men held their nerve after throwing it away in 2018/19.
Current promotion-chasers are bound to be compared to the previous winners, but Farke believes there shouldn't be this strong a comparison with his current table-toppers.
Farke responded to typical comments from Brentford's Thomas Frank about Norwich being as good as promoted.
"It doesn't matter what he says. It is not a guarantee," Farke told the Pink Un.
"I remember some other comments that Leeds were the outstanding team last season and everyone else was playing for position two.
"Now we are 11 points clear of Leeds at the same stage. We know we are in a great position. To have 73 points at this stage is fantastic.
"We are also seven points better off than two years ago. That is outstanding but there is no guarantee the final 12 games work in our favour as well.
"We have to win some more points to achieve what we want."

Norwich are 10 points clear of second so a neutral could look at that as a very healthy lead, but we have shown it's not that simple.
A dip in form for three games could erase that lead, as we showed in the New Year heading into 2020.
Thomas Frank does need to learn to stop running his mouth, though, given that his side is good enough on their own merit not to need mind games.
That being said, Farke is right to distance his side from ours, given how his side is getting on right now, but he's bound to draw comparison.
---