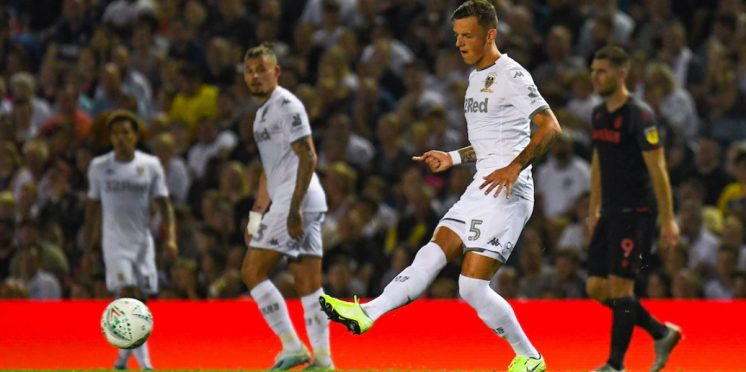 Ben White: The Stats Behind Leeds United's Star Loan Signing
Ever since being relegated from the Premier League fifteen years ago, Leeds United have provided their fanbase with more false dawns than the younger generation have eaten hot dinners.
Can 2019/20 be different with Brighton loanee Ben White in the backline?
With a truly cultured manager at the helm, a warrior of a captain and Kemar Roofe unplayable on his day, 2018/19 seemed to be the one. Leeds camped themselves firmly in the top-two alongside Norwich, and stood at the summit on Christmas Day, a whole six points ahead of third-placed West Bromwich. The sophisticated 'yin' to Norwich's gung-ho 'yang', Leeds were considered by many to be the likelier of the two clubs to hold out from there.
However, the same ponderous defensive performances that had blighted previous campaigns re-emerged. We all know how it went from there, and in truth, Marco Bielsa's setup had long since been sussed by lesser teams than Derby. However, the final aggregate scoreline of 4-3 against The Rams simply underlined it with the greatest severity.
Eager to put a permanent end to the defensive mistakes, which so often render the efforts of a front line with few second-tier equals pointless, Bielsa has taken a route that bears a lot of logic.
30 years' difference, same principles
Ben White's loan arrival from Brighton in preseason is a sign that Bielsa is building a team for the Premier League that will grow together, very much like the last successfully-promoted Leeds side of 1989/90.
In an ideal world, the collective learning experience will make them more resilient against relegation in 2020/21 – provided that the Whites even get to the Promised Land in the first place. Right now, Championship markets show a lot of faith in Leeds to complete the job. The alternative scenario, with Bielsa's likely departure and a leap into the unknown, is unthinkable, and the feeling of 'do or die' around this campaign is far more palpable.
Starved of success for so long Leeds fans expect the best, and while Bielsa is no Howard Wilkinson, this is a shrewd move. White has already been on loan spells at Newport County and Peterborough, making his transition to a second-tier club all the more logical. With White signing a year's extension to his current deal with Brighton, on the same day he joined Leeds, it is clear that the Seagulls are reluctant to let him go, but do the stats back the hype?
At first glance they most certainly do. At 7.48, White has the highest average rating of any Leeds player, and has forged a solid partnership alongside Liam Cooper. While the more experienced Cooper leads the way in the aerials stakes (with 5.3 won per game compared to White's 3.3) White's passing success rate of 87% puts him ahead of Cooper, and behind only Adam Forshaw and Barry Douglas.
Superlative stats
In a testament to the faith Bielsa has in him, White is also one of just two outfield players to have played in every minute of 2019/20 thus far, with the other being the versatile 'number four' Kalvin Phillips, who is himself thriving in front of him as the spine of the midfield. That faith in White (and Phillips) is being paid off in torrents, with Leeds going into their crunch match against rivals Derby boasting a rediscovered reputation for defensive steel.
With White's more niche defensive stats also standing out, this is hardly a surprise. On top of being the best passer in the backline, White also leads by the interception stakes by a country mile, and will likely exceed the '4.0 per game' mark by the end of the month. Such composure is a rare gift for one that is still, in reality, learning his trade – even more so given the expectation surrounding Leeds this campaign.
That composure is also further evidenced by his sub-1.0 rate of fouls per game. For the moments where pragmatism is the priority, White also enjoys near-parity with Cooper in terms of clearances per-game (3.9), while making the second-highest number of blocks (0.6 per game) behind Gaetano Berardi (0.7) – a man ten years his senior.
White also compares favourably with Championship defenders within other teams, especially those that are expected to be tough opponents for Leeds in the coming fight for automatic promotion. His average match rating is also currently the highest of any defender in the division. The only other natural centre-back who comes near him is Swansea's Mike van der Hoorn (7.32), and White also tops the entire league with interceptions – currently besting Hull's Kevin Stewart by 0.8 per game.
A results business
A good defence is nothing without the results to back it up. As such, it is impressive to note that Leeds have taken full points from each of the last four Championship matches in which they have scored first. By extension, the Whites have dropped just two points after scoring first so far this campaign.
Such defensive resilience, much-enabled by White's composure in playing the ball out of danger following a shrewd interception, will certainly be an asset going into a tough run of fixtures beyond the Derby clash.
Either side of a home match against a dangerous attacking side in the form of West Bromwich, Leeds make two trips to South London that daunt the psyche for very different reasons. First up is Charlton, who are undisputedly the surprise package of the league, and perhaps even the entire league, after only recently losing their unbeaten start to the campaign by a fine margin.
Millwall, however, will be a different test altogether. Unlike Charlton, Millwall should be comfortable losers on paper, but The Den's reputation for virulent hostility needs no introduction or elaboration. Given the history between Leeds and the 'Lions' It will be a test unlike any other that Ben White has faced, and a Leeds victory there – let alone one accompanied by a clean sheet – will see the odds against their promotion shorten like lightning.
Naturally, Leeds have been here before and found themselves wanting. However, early results show that the lessons of seasons past – of the 2006 playoff disaster, and the late slumps seen during the Radrizziani era – have been learnt.
---