Leeds United manager Jesse Marsch was left to regret his side not capitalising on a dominant performance against Brentford, coming out of the clash with a 0-0 draw.
After putting five goals past Cardiff City in midweek in the FA Cup, Leeds returned to Premier League action seeing them take on Brentford at Elland Road.
However, they couldn't continue in the same vein in front of goal, with the game ending a 0-0 draw with neither goalkeeper routinely tested throughout the game.

A stalemate left the mood amongst the fans flat, knowing it's another winnable game where Leeds played well in, but had little to show for their efforts.
Jesse Marsch's post-match reaction was again that of positivity as the side looked to implement his system quite efficiently, but without an end product to boast in goals (via Phil Hay):
However, there can only be so long where these post-match comments hold any sort of substance, as we see the same tone after every poor result.
BBC's Match of the Day 2 pundit Martin Keown was not happy with the manner in which Marsch spoke after the match and has been doing this season.
Reacting to the game, Keown stated:
"I don't see any game management.

"I don't see any control. I think the manager has got good characteristics.

"But when you don't win games, it's like codswallop, isn't it?! It's just baloney. We are just hearing this propaganda. It's like he is clinging on. 

"They need to get results. There is a message, all the interview from the players is the same, there is momentum. We are building. We are moving in the right direction. Two wins in 16 games is not moving in the right direction."
Should Marsch have been sacked?
Marsch in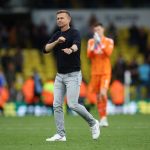 Marsch out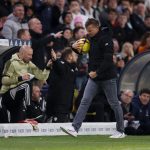 It's not often we can agree with Keown, but he's spot on with this comment.
Marsch talks a big game before and after matches and does a good job and making himself seem convincing in the role he's performing, attempting to mask what we see during the match.
Only so many times can we see the side play well and not win where it comes down to systematic problems.
We don't win these games because we're pretty easy to deal with, and the fact we only mustered a couple of real chances in that game is frustrating.
It's hard to trust any sort of process Marsch is trying to flog here when he's had 11 months and nothing has improved – Roberto De Zerbi has somehow improved an already irresistible Brighton side almost instantly.
Quiz: How much do you know about Leeds United's Georginio Rutter? Find out here…