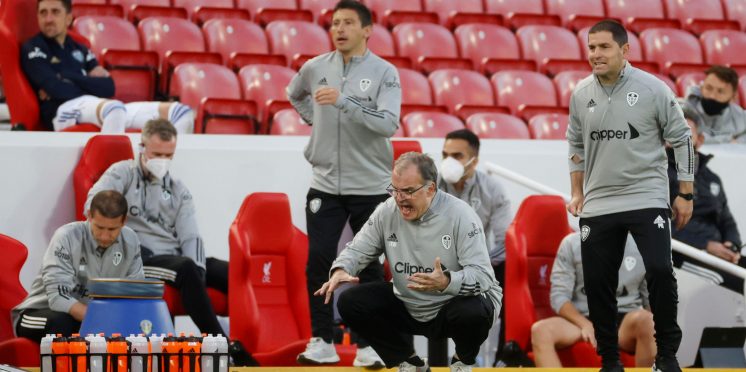 Andrea Radrizzani reacts as Leeds United fans get creative with Marcelo Bielsa
Leeds United owner Andrea Radrizzani has reacted to humorous praise of iconic manager Marcelo Bielsa on Twitter.
The Whites are sat in the Premier League for the first time in 16 years and a thrilling clash at Anfield on the opening day is only a sign of more things to come as the club looks to take the top flight by storm.
Two years ago, back in the summer of 2018, Leeds confirmed that then-manager Paul Heckingbottom was to depart the club as they looked for a more ambitious replacement, which they got in managerial pioneer, Marcelo Bielsa.
His first season in charge didn't yield promotion, but the club bounced back in their centenary year to romp to the Championship title and return to the Premier League after what seemed like an eternity away.

Leeds were given a dream start to life back in the big time when they made the trip to Anfield to face the Premier League and World champions Liverpool, looking to spring a surprise in their first game.
It wasn't to be as the Whites lost 4-3 to the holders, but Leeds won the hearts of many by going toe-to-toe with the Reds and actually causing a huge fright from very early in the game, dominating possession and completing more passes than the hosts in 90 minutes.
It was a sign of what Leeds were capable of this season under El Loco and how they will look to approach every single game, even against the league's best sides, and it's just what the Leeds fans expected from their much-adored manager.
Leeds fans won't be told otherwise on just how good Marcelo Bielsa is and has been for the club since arriving, leading to a handful of murals around the city in his honour.
Owner Andrea Radrizzani reacted on Twitter to one fan's humorous praise of the Argentine manager, claiming him to be the best in the division:

It might be a stretch to brand Bielsa the best in the league after one game in it, but there's no doubt that even the neutrals would have him in the top eight of their lists.
Even Pep Guardiola has been on the record to state that Bielsa is the best coach in the world, and it's understandable with how much of an impact he has had on his knowledge and approach to the game.
Bielsa's nobility and humble nature would always deflect this sort of praise but even he must be starting to acknowledge the magnitude of his achievement in turning this mid-table Leeds team into one that can go to Anfield and play in a manner that deserves at least a draw against one of the best sides in the world.
---