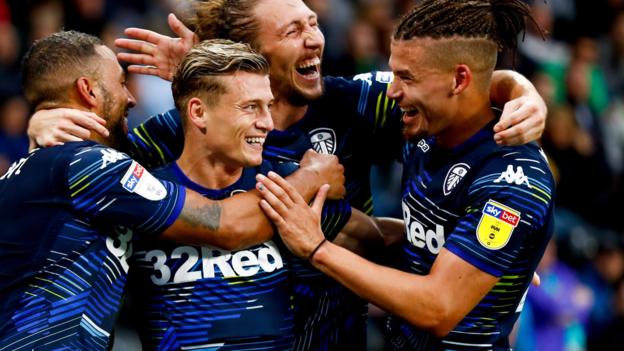 5 things we learned from Leeds' emphatic win over Derby
After rewatching the game for what feels like the 18th time, it's time to bring back that feature you've probably seen 5 times this weekend already, here's 5 things we learned from the game on Saturday!
Roofe is going to take some moving
Leeds fans including myself have been begging for a top quality striker to arrive at the club to guide us to the Premier League. The arrival of Bamford for £7m, the biggest signing since Robbie Fowler, seemed to be exactly what the doctor ordered. However, fast forward the first two weeks of the season and Kemar Roofe looks like the ideal striker for this team. Last season, Roofe was very inconsistent, on some days he looked a million dollars but on others, a ghost.
It didn't help him that his teammates spent most of the season launching the ball at his head though and now with Bielsa, he's running in behind and giving the defenders nightmares. Bamford will obviously get his chance at some point, but it'll take a mammoth effort with the way Roofe's playing at the moment.
Samu Saiz would be better than Messi if he made the correct final ball
Okay, maybe a slight exaggeration. Seriously though, he absolutely ran the show against Derby and if his final ball had been better, Leeds wouldn't have been far off scoring double figures. Sometimes I think his brain is too far ahead of his body, hence why he does things like scoop the ball so badly that it doesn't go anywhere near the net when through on goal. It's early days of course this season and we know how it went for Saiz in the later stages last season, but with Bielsa at the helm it seems as though Samu may be able to drag us through most games.
The most impressive thing he did during the game was sprinting back over half the pitch to make an important tackle, which is something he never would have done last year and it was great to see.
Alioski is proving people wrong
It's fair to say I wasn't a fan of Alioski last season, he clearly had talent, but he didn't use it anywhere near often enough. Again, keeping in mind we've played two games, Gjanni looked like a different man against Derby.
For starters he's running at people; which you'd think is obvious as a winger but he struggled to do that in large spells last year, his crossing has been great so far too, with two assists on the season. He and Samu seem to be on the same wavelength at all times.
Too soon for Bailey Peacock-Farrell?
Don't get me wrong I rate BPF and he's very likely to be a good keeper in the future. However, I don't think he's ready to be our number one this season and that's why Jamal Blackman was brought in.
Let him learn behind a great keeper in Blackman for a year and then hopefully he'll be ready to be our number one for years to come, right? If Bielsa thinks he's the best option then fair enough, but I can see Blackman playing well against Bolton and then keeping the job.
Kalvin has found his role
People may not rate Kalvin for whatever strange reason they have, but he was actually our best midfielder last season. Anyway in the present, Phillips looks extremely at home in the new role Bielsa has assigned him. He gets a lot of the ball and either keeps things ticking or sends a diagonal ball that gets us into attack.
As the commentators said on Sky during the game, he seems to be in the right place at the right time frequently, stopping numerous attacks and giving Derby no space through the middle. Phillips is a big factor in Leeds not conceding any goals from open play so far this season.
#LUFC pic.twitter.com/qpdM5H4Qdj

— #WALMOT (@WALM0T33) August 12, 2018
Let us know your thoughts on the game, who impressed you most?
---