Leeds United were left empty-handed in their midfield pursuit in the summer, with Conor Gallagher showing them exactly what they're missing.
At its best, Marcelo Bielsa's Leeds outfit is irresistible to watch in the Premier League and a side that very few can cope with.
However, an alarming lack of depth in the squad means it's difficult to keep that side at full tilt without avoiding injuries.
So, a midfield signing in the summer was seen as pretty close to a necessity. Enter Conor Gallagher.
The Chelsea youngster shone in a struggling West Brom side and was priority number one for Leeds later in the window, that is before he chose to move to Crystal Palace.
Since then, we're having our noses rubbed in it with his fine form for the Eagles, as we contend with very limited numbers in his position: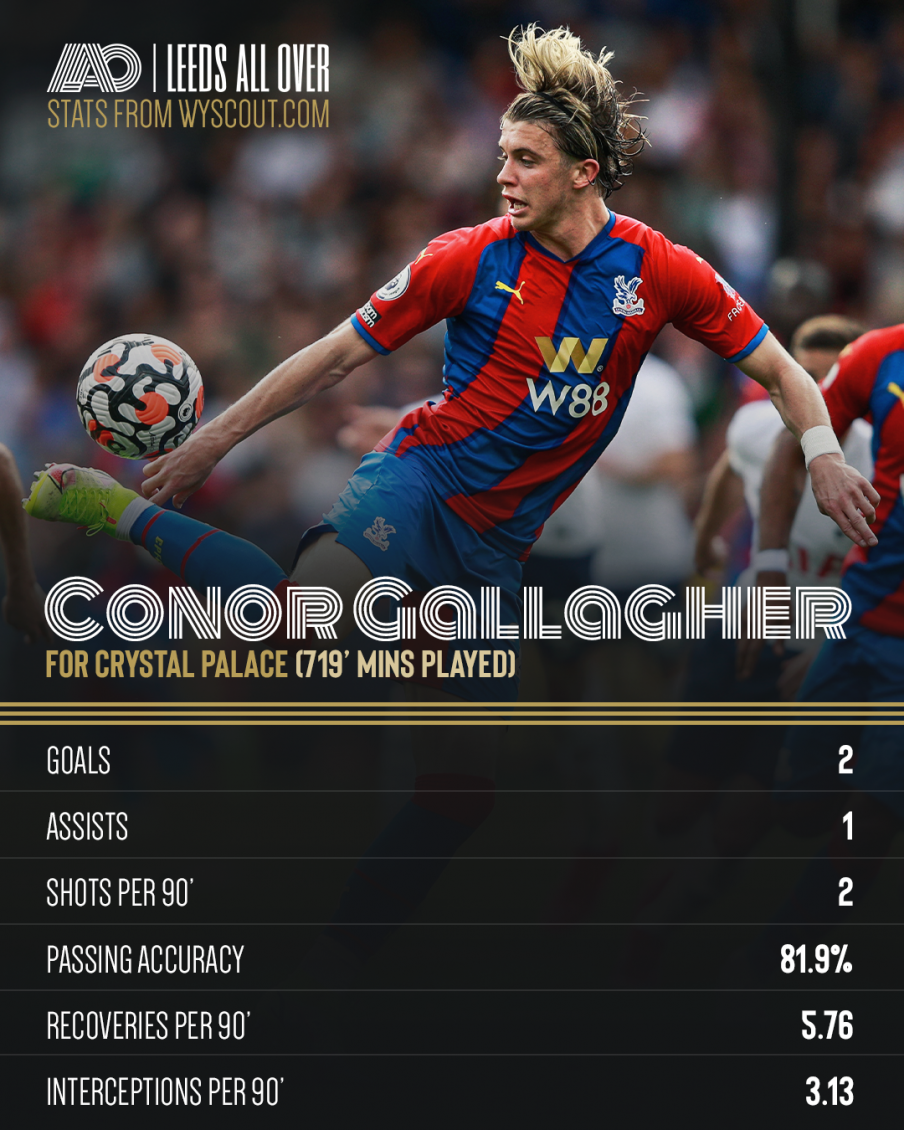 The best place to start when looking at Gallagher's influence at Selhurst is his goal involvements.
Two goals and one assist isn't exactly remarkable, but it's clear of any tally our central midfielders have currently got, with Mateusz Klich and Stuart Dallas having an assist each while the Pole has one goal to his name too.
16 shots in total and two per game is a solid return for Gallagher too, putting him in between the two Leeds men aforementioned. However, it's his threat when pulling the trigger that is what we're missing from our two options there, who haven't looked like scoring aside from Klich's stellar showing against Everton.
Gallagher is actually outperforming his expected goals tally, while Klich and Dallas are a combined 1.1 xG under where they should be.
His passing accuracy has him at a similar level as our current regulars, showing that Gallagher is someone who could have come into our side and distributed the ball just as well.
When it comes to his defensive contribution, this is where we see why Gallagher was the player the club wanted so much, with his recoveries and interceptions per game very impressive.
High-intensity and effectiveness in turning the ball over well up the pitch would have been key to us dominating more games this season and when we've struggled to control games too.
Having that presence able to force mistakes and then create in possession is something we've sorely lacked.