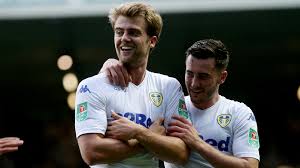 3 Outstanding Performers vs Preston
Leeds secured yet another important win away at Preston tonight. Sheffield United travel to Birmingham tonight and if they are able to match Leeds' result, they will move back into 2nd a point clear of Leeds. Come on Garry.
Last night was a good team performance and Leeds found much more purchase following the sending off of their centre-back, Ben Pearson, in the early stages of the second half. Let's take a look at who particularly shone:
Mateusz Klich
Klich was phenomenal last night. His movement in attacking play can't be underrated, he opens up space and links perfectly. Though the goals may have dried up, the areas he finds to provide others are extremely important. This was exemplified last night, the exceptional run he made to receive Pablo's cutting ball where he found himself on the right side, allowed him to provide a perfectly weighted ball for Pat B to nod in his second.
Kalvin Phillips
Kalvin put in another exceptional performance last night and commanded the midfield area well. Even though he isn't doing as much further up the field these days, his defensive work makes up for this. Even without the ball or with it further up he covers other players well, this is why we see him making recoveries on all sides of the pitch. Too soon for player of the season?
Patrick Bamford (+ Tyler Roberts)
The beauty of this partnership is how unconventional it is. But it works. Bamford will be riding high after netting twice last night. This showed as he cupped his ears as if to say to those who had been criticising him that this is what he can really do. The onus will be on him now to keep his spot and keep bagging till the end of the season.
TyRob perfect once again, he's a different player since coming back from injury and Leeds are all the better for it. His hold-up play and being able to play through in short spaces is absolutely peerless. We forget how young he is, but he's going to prove very important for Leeds in years to come.
---